This post may contain affiliate links. These links cost you nothing and allow us to keep rolling along and bringing you more helpful content.
Renting an Airstream for your next road trip will change the way you look at vacations from now on.
Just imagine hauling one of these silver bullets as you're rolling down the highway on your next big adventure; it will be a vacation to remember.
We are here to help you navigate the Airstream rental process, aid you in finding a convenient place to rent, and help you choose the right model for your trip.
Why You Should Rent An Airstream
The inspiration behind the first Airstream was when the founder, Wally Byam, made it his goal to make camping more enjoyable and comfortable for his wife[1].
So, if you are like the Byam family and are looking to upgrade from your tent to an RV, the Airstream might be the perfect match for you.
Not only are Airstreams cozier to camp in than a tent, especially in the rain, but they add a whole new level of convenience. Plus, if you are new to RVing, there is a wide variety of Airstream options from the smaller Nest series to the larger luxurious Land Yacht, and several in between.
Finally, if you are seriously considering buying an RV, it is always best if you can rent first.
Renting will help you decide on the features you want in your Airstream, and it also gives you feel for the RV lifestyle if you've never been RVing before.
See also: Tips for Renting an RV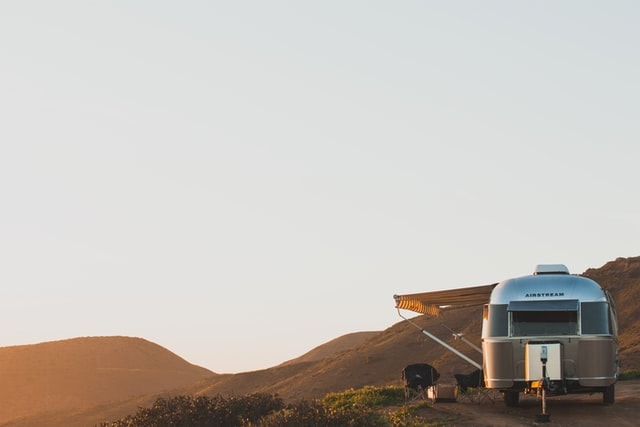 Airstream Trailer Pros & Cons
Like with all things in life, there are pros and cons to renting an Airstream trailer.
✔
Pros
Lightweight – They are ideal for towing with vehicles that have a lighter towing capacity. Additionally, the lighter weight also helps you get better mileage.
Aerodynamic Design – The classic silver bullet design aids in fuel efficiency[2], though it also does add to its overall vintage appeal.
Well Designed Interiors – The interiors of the Airstreams have a luxurious feel to them, but are also extremely efficient and functional for living in a small space
Their Old School Look – There is nothing quite like the classic retro look of the Airstream. Though they have changed significantly over the decades, they retained their unique silver design.
✘
Cons
Lack of Insulation – The lack of insulation makes Airstreams a poor option for winter camping.
Metal Exterior – Unfortunately, the traditional silver design also works against the Airstream on sunny days. All RVs kept out in the sun, heat up quickly, but Airstreams are even worse for sunny day parking. And it can be sharp[3]!
Levelers – The levelers must be used anytime you want to spend time in the camper, so if you decide to stop for a quick break at the Walmart or rest stop, you always have to use the levelers to ensure you don't tip the trailer.
Space – Though the land yachts are relatively spacious, none of the Airstream campers have slide-outs, so they are a bit more cramped than some other camper trailers, especially the older Airstream models.
How Much Does It Cost to Rent An Airstream?
Rental costs vary depending on the Airstream model.
However, most range from $99/night up to $339/night.
In addition to the per night cost, most Airstream rentals also charge for:
Mileage – There is usually a per day allowance, but anything above that is charged at a preset rate.
Security Deposit – Though refundable, read the fine print to ensure you are not charged for late fees, cleaning fees, or damage.
Delivery and Set-Up Service – Not all rentals offer this, but for those of us who are not confident towing a trailer, this is a great way to get around that issue.
Towing Vehicle Rental – If you want to rent an Airstream but don't have a vehicle that can tow it, some rentals offer a towing vehicle for an additional cost.
Add on Amenities – This is a helpful service that includes a variety of options depending on the rental company or person. But may include conveniences such as bed linens, towels, mobile hotspot, camp chairs, and entertainment options such as games and movies.
Pet Fee – Some rentals allow pets, but for an additional charge (see our tips for RVing with dogs and cats).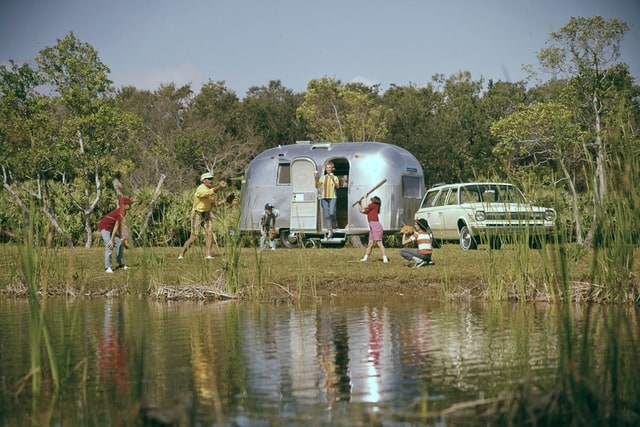 Where to Rent An Airstream
The two most popular places to rent an Airstream are Outdoorsy and RVShare (see our comparison of the two).
Both bring RV owners together with RV renters. Think Air BnB on wheels.
The benefit of renting from one of these sites is that it offers a broad range of options all within your specified area, making pick up and drop off a lot easier.
Additionally, when renting from RV owners, the RVs often come stocked with basic amenities, such as kitchen and dining sets, so you don't have to worry about packing dishes.
Which Airstream Model Should You Rent?
When choosing the right Airstream you should consider a few different factors:
Size – How many people do you need to accommodate
Purpose – Are you looking just to have a base camp that will keep you off the ground or are looking for a life of luxury while enjoying the great outdoors? Airstream has it all
Budget – In addition to the per night rental and possible additional fees, remember to include the cost of fuel and RV parks (or find places to park for free!)
Type – Pull behind or motorhome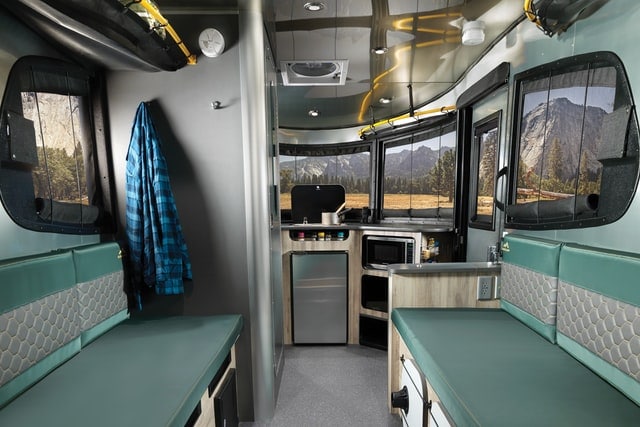 Here are some ideas for which Airstream works best for different situations:
If you are just looking for a dry place to sleep and plan on camping solo or with one other person, these bare basic models are all you need: Basecamp, Nest, or Bambi. Though if there are two of you, these models have you sharing a bed.
If there 1-2 campers and you are looking for a bit more space without going overboard, check out the International, Flying Cloud, or Caravel, which all offer more space to stretch out.
If you and the family are hitting the road, you will want to go with one of the larger models like the Flying Cloud, Globetrotter, International, or the Classic. All of these models come in at least 23+ feet, with the classic being the longest at 33 ft. And the Flying Cloud is said to accommodate up to eight people.
If you are traveling with friends and like the idea of a bunkhouse, the Flying Cloud and International both have floor plans with bunks.
If you want to try a small motorhome style RV for two, Airstream offers a few different touring coaches. Touring coaches are perfect for those looking to keep things simple and have the flexibility to pick up and move in minutes. Plus, touring coaches make sightseeing in your rig a lot easier than hauling a 30-foot tow behind through downtown Santa Fe.
Conclusion
Renting an Airstream is a bit more complicated than setting up a rental car, but finding the perfect match is all part of the fun.
With the many different models and floor plans available, it would be hard not to find the right Airstream to meet your needs.
In addition to the variety of models, there is also a wide range of rental prices, helping you to stay within your vacation budget.
Resources