This post may contain affiliate links. These links cost you nothing and allow us to keep rolling along and bringing you more helpful content.
My friend Bev and I were out running and talking about her upcoming road trip from Minnesota to Florida.
She and her husband are helping their daughter relocate for graduate school.
Since it is such a long drive, Bev said that it was times like this that she missed not having an RV.
Bev said she loves road trips, but it was so much more enjoyable when they were able to travel in the RV. RV travel gave them the option to stop whenever, use the bathroom without halting the trip, and most importantly, it would give them more room to stretch out.
Since they sold their RV years ago, I suggested that they look into renting an RV since it would be the perfect solution to increasing space, decreasing the number of stops, and giving them more options on where to sleep.
I thought I would help Bev out and look into some RV rental companies. Because their trip was coming up soon, I thought to check out RVShare since I had heard they had an expedited rental service.
Since I had already done the research, I thought it would be a good idea to share my RVShare review with others.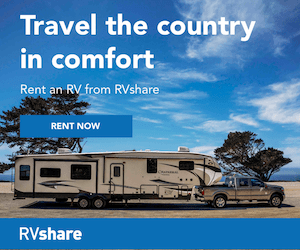 RVShare, founded in 2012 by Mark and Rachel, is a company that brings together RV owners and RV renters, creating a business opportunity that helps both parties. It is essentially a VRBO on wheels.
RVShare got its start after Mark and Rachel purchased their RV for a honeymoon getaway[1]. Upon returning from a beautiful adventure, they came to realize that though they loved their RV, it carried a monthly expense even though it just sat in their driveway not being used.
Mark came up with the idea that to offset the cost of their RV, he could rent theirs out to others.
However, after attempting to rent it out, they realized that there was a market for both renters and owners, but no organized system to make it happen.
And that is how RVShare got its start.
One thing I noticed on the RVShare home page is that it states they work to aid first responders and medical personnel to provide temporary housing for them during the COVID-19 pandemic[2].
I always prefer to work with companies that support their community.
Pros
Helps both the owners and renters
The convenience of finding an RV in your area
24/7 roadside assistance
Variety of RV types and sizes
Lists both peer to peer and RV rental agencies
Cons
Communication delays when contacting the RV owner
Not all RVs allow pets
Availability dependent on location – Fewer options in smaller towns
Doesn't require proof of annual checkups
They don't list their insurance partners' names
Things to Consider when Renting an RV
Renting an RV is an excellent way to experience RV travel before investing in your own. It is also an economical method for those who enjoy RVing but don't have the time to use it more than once or twice a year.
But when you rent an RV from an individual versus a rental agency, you need to know that not all owners keep their RVs in tip-top shape.
Some may not be as clean or may not make regular repairs or keep up with general maintenance, such as changing the oil in the generator or properly winterizing.
And, when you rent with RVShare, they not only have owner to renter RVs, but they also have some RV rental agencies listed, too.
Plus, RVShare has a review option so you can see what other renters say about RV units before committing.
So, if you are concerned about maintenance, then choosing a rental agency through RVShare may be the better choice than the peer to peer option.
However there are a few things to consider before you decide to rent:
Budget (RV rental; additional fees for mileage, cleaning, generator use, etc; campgrounds; gas)
Type of RV – Pull behind, Class A, B, or C, Popup
Size of RV
Your comfort with driving a large vehicle or towing a camper
Plans for your vacation; most motorhome style RVs are not conducive for sight-seeing in the city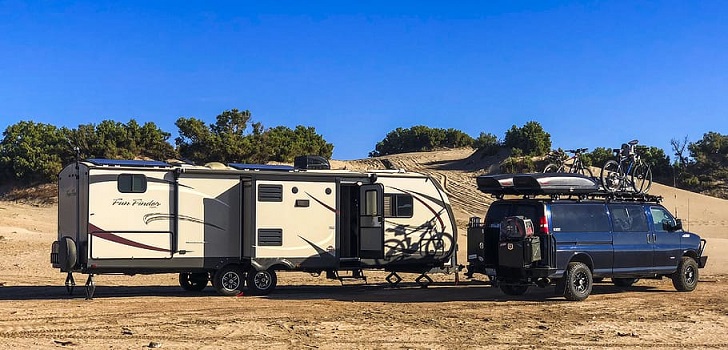 Features and Benefits
RVShare works at connecting people who have an RV to those looking to rent an RV. It is a service that works well for both parties.
For those renting their RVs, they have the convenience of allowing a third party to make the reservations, verify the renter's information, and making sure that there is proper insurance coverage in the event of an accident.
Additionally, the RVShare database reaches far more people than listing the RV privately, plus there is no monthly fee.
For those looking to rent an RV, RVShare is often a more economical way to rent an RV than the traditional rental agencies.
Also, RVShare matches you with people who live in your area, making rental a lot more convenient. And you can choose from hundreds of RVs of all sizes and varieties to meet your needs.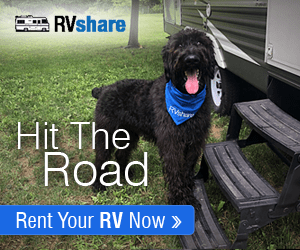 Additionally, with RVShare, some of the RV rentals come with several amenities such as kitchen tools, place settings, linens, camp chairs, and games. Which means all you need to pack is your food and clothes.
Though, some RVs are bare-bones, often at a lower cost, but it requires you to pack all of your necessities. So, you have several choices when you work with RVShare.
Plus, some of the RV owners offer additional services such as delivery, dumping, and cleaning when you finish your trip.
And, of course, when you are using RVShare's online service you can choose specific filters so you can choose to see only the RVs you want, as opposed to paging through tons of RVs that don't fit your needs.
Some of the different filters you can apply are:
Price
Instant Book
Keyword (i.e., Make, Model, etc.)
Available Services
Pets
Smoking
Generator
Length
Year
Type – Drivable (Class A, B, or C) or towable (5th Wheel, Travel Trailer, Toy Hauler, and Pop Up)
And if you want a wider range of choices, you don't need to select any filters.
Social Proof

One of the things I always try and check out before renting or buying something of a substantial cost is what others are saying.
Though I always expect the occasional bad experience, I do put a fair amount of stock in the social opinion of a company since I often find them to be reasonably accurate.
When I checked out RVShare's reviews, I was surprised to find such a mix of reviews.
While the Better Business Bureau lists them as A+ and four stars, I found 24% of those reviews were complaints filed with the BBB.
And all other reviews I found were pretty 50/50. Either people loved them or didn't. Few reviews were middle of the road.
However, the majority of the complaints I found had little to nothing to do with RVShare as a company and instead were about the RV owners.
What I gathered from the claims is to be sure you read the owner's guidelines and policies as they may differ from those of the company.
Something I did notice was that RVShare did an excellent job responding to complaints on the BBB website and other sites like the BBB providing apologies, explanations, and possible solutions when available[3].
I think that companies that promptly follow up on reviews show they care about their customers.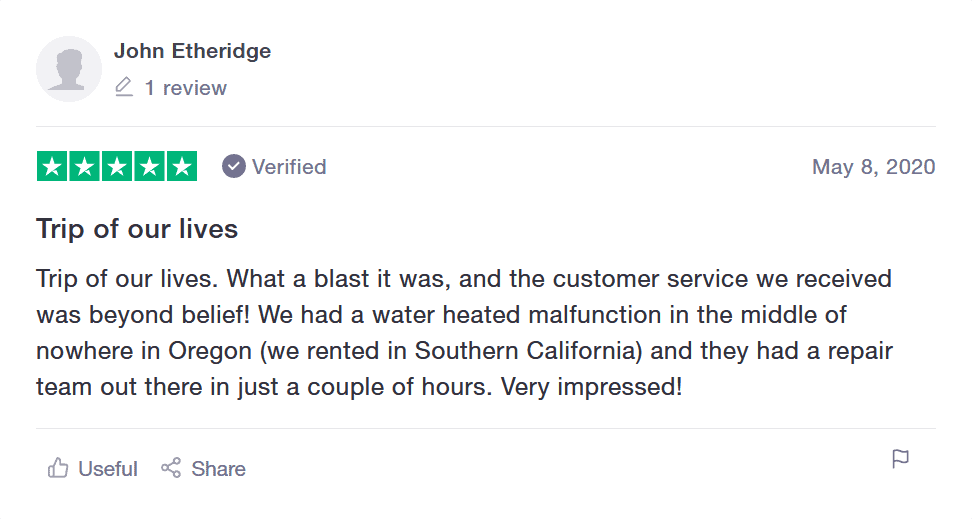 Alternatives
If you are still on the fence regarding renting from RVShare there are a few alternatives you can compare to RVShare.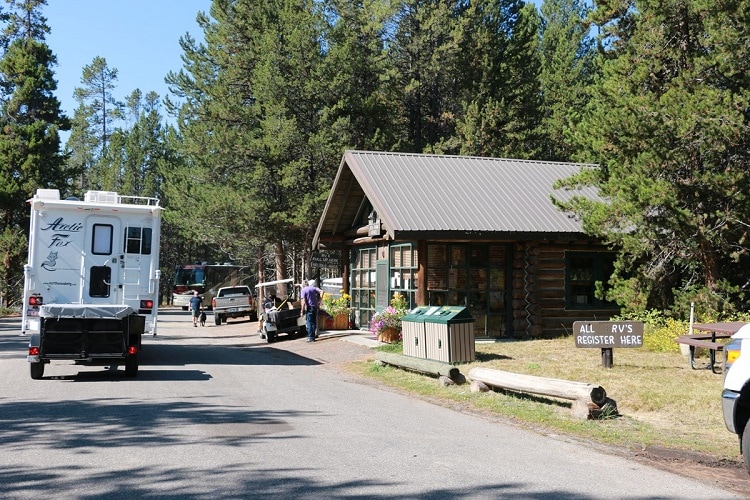 Outdoorsy
Outdoorsy first started in the hope to connect outdoor enthusiasts through renting RVs from owners to hopeful campers, using the common bond of the love of the outdoors.
Outdoorsy and RVShare a very similar in that they offer both peer to peer and RV rentals from rental agencies.
However, there are a few differences between the two companies:
Renters undergo a comprehensive background and DMV check
GPS option so the RV owners can check the location of the RV
More insurance coverage for less
Many of the other differences between the two companies impact the RV owner more than the RV renter, such as:
Booking and payment fees and turnaround time
Cancellation policy options
However, there are more similarities in the two companies than differences, like:
24/7 roadside assistance
RV delivery option – based on the owner
Instant Book
Large rental selection options
Click here to learn more about Outdoorsy!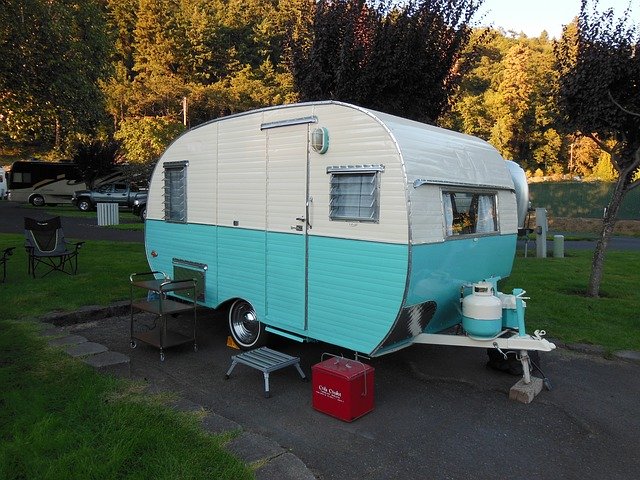 RV Rental Connection
It is RV Rental Connection's goal to create value for its customers by enriching the lives of RV Owners' and RV Renters.
RV Rental Connection is similar to RVShare in that they bring RV renters together with RV owners and dealerships. RV Rental Connection is a convenient service that not only connects renters with RVs but also is a one-stop-shop to aid them in booking with nearby campgrounds.
However, what sets them apart from the competition is that they are a subscription-based RV rental and advertising company. Instead of taking a percentage of the rental costs, they charge a monthly or annual subscription fee to advertise rental RVs.
So, the most significant difference between RVShare and RV Rental Connection impacts the owners more than the renter.
As for pricing, it varies based on RV, but like RVShare, some of the RVs come fully equipped with kitchen utensils, dishes, and linens, all included in the charge per day.
And, like the other RV rentals, they charge for mileage and generator use above and beyond a prespecified amount.
Much like RVShare, availability is dependent on location, so more populated areas have a more extensive selection than less populated areas. Click here to see what's available at RV Rental Connection!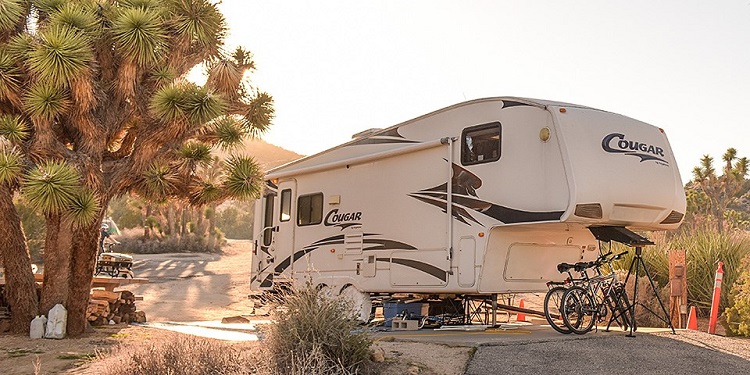 Camper Travel
Camper Travel is an RV travel agency. They find travelers the ideal RV at a rental company near them.
They work with RV rental agencies all over the country as well as internationally in Australia, New Zealand, Europe, Canada, and South Africa.
Unlike RVShare, they do not offer private rentals for peer to peer rental. Additionally, there is no delivery service, so you must pick up the RV from the rental agency.
Specific amenities such as dishes or linens are available but at an additional cost.
The pricing between the two looks comparable at first glance. However, Camper Travel charges for:
Convenience kits per person
Prep Fee
Some of the other differences between the two companies are:
Camper Travel is more limited in its choices of RVs
Camper Travel has more add-on options (Wifi hot spot, bike carrier, camp chairs, camp table)
Camper Travel offers an airport shuttle
Before picking up, Camper Travel Partners performs:
Pre-cleaning
Mechanical servicing
Fills propane tank
Refills toilet chemicals and one roll of TP
Much like RVShare, the prices vary depending on the type, year, and size of the RV and RV rental company.
Additionally, both require and provide RV insurance and roadside assistance included in the rental price. If you want to learn more about Camper Travel then click here!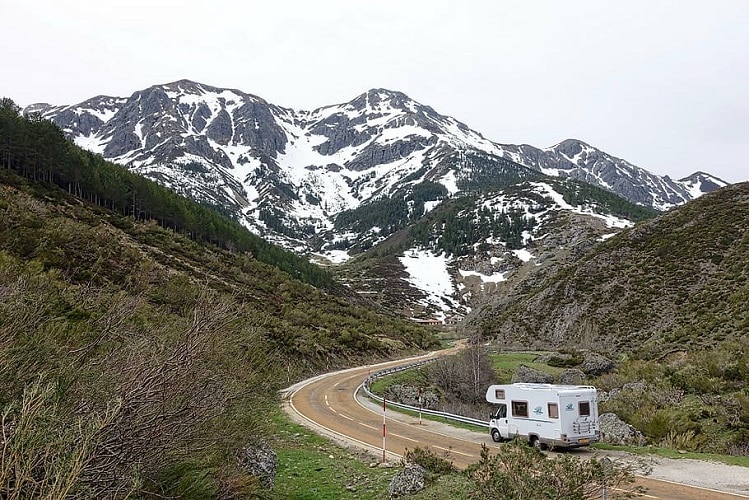 Conclusion
RVShare is a company that offers a great solution to both owners and renters.
And for those who enjoy the outdoors, but aren't sure about making an investment in an RV or haven't decided on which RV works best, RVShare offers you an opportunity to try a multitude of styles to see what fits your needs best.
I know it is not always easy to see our RV sitting idle on the weekends, especially when I'm making the monthly payment for it.
And if your RV is paid off, renting your RV is a great way to earn money towards your next road trip.
RVShare offers RV owners an easy and excellent way to offset the costs of owning an RV.
My biggest recommendation when using RVShare to ensure the best experience possible is to be sure to read all of the guidelines and cancellation policies since they differ from one RV to the next.
Using RVShare means that the terms and conditions for RV rental change from owner to owner. It is not like renting from an RV rental company where the policies are the same regardless of which RV you choose to rent.
If you're interested in renting your RV or renting one for vacation, click here to get started.
Resources
https://www.prnewswire.com/news-releases/rvshare-and-rvs-4-mds-partner-to-provide-temporary-housing-for-covid-19-first-responders-301037978.html