This post may contain affiliate links. These links cost you nothing and allow us to keep rolling along and bringing you more helpful content.
Whether you are vacationing or living fulltime in your RV, storage space almost always seems to be lacking. At first, when you buy or rent an RV, it may appear to have a ton of space.
However, once you start moving stuff in, you will realize there's not as much space as you initially expected.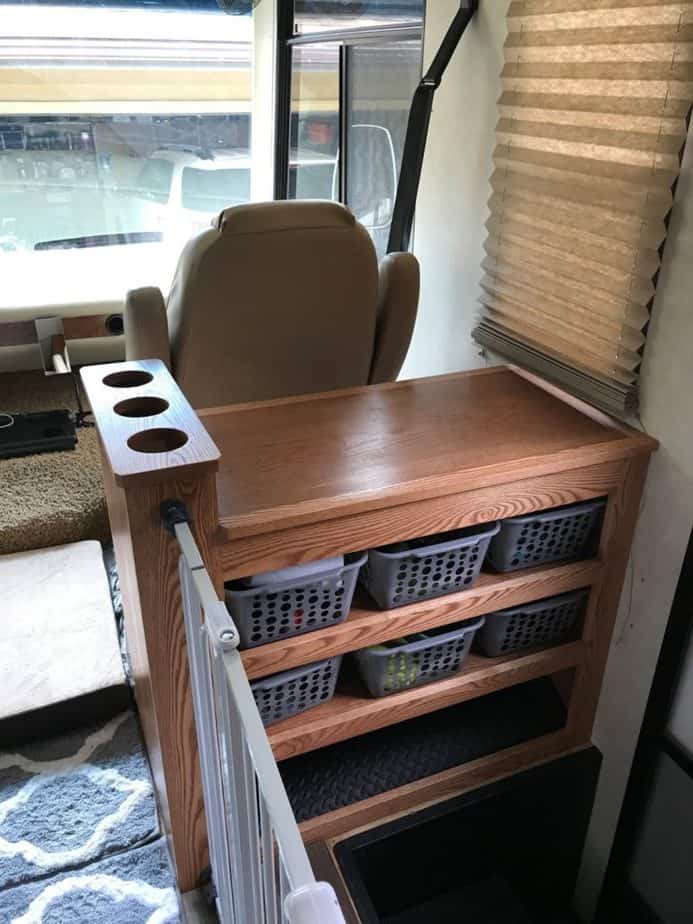 But don't worry, there are some excellent ways to get around the storage issues, it just takes a bit of imagination and organization.
In fact, organization is the key to successfully packing and vacationing in an RV.
If you keep your RV well organized, it will maximize your storage as well as keep things tidy while living in such a small space.
Also, don't worry about having to spend an arm and a leg on expensive storage organizing gadgets, all of the following storage hacks are very economical.
Below I will cover some of the different ways I store our kitchen, bedroom, and bathroom items, plus some tricks to for your pet's stuff.
Though every RV has a different setup and family dynamics, most of these RV storage ideas will work for all RVers.
Preparation Before you pack your RV
Step One
Create a list of the items you intend to pack and organize your inventory according to which "room" you plan to keep it.
Next, note next to each article where you intend to store it, i.e., which cabinet, drawer, etc. A detailed list might seem a tad much, but it will help you tremendously when it comes time to load everything.
For my first RV trip, I skipped this step, and I wasted a lot of time organizing and reorganizing our stuff until I found a place for everything.
So, it is well worth the time to write it all out. Additionally, this will help you figure out if you need additional accessories such as standalone drawers or shelves.
Step Two
Review and pare down your list. For example, for two people, I packed dishes and silverware for four people, not the six that generally come in these sets.
It is a time saver to adjust your list before you start packing instead of having to unpack excess items later.
Step Three
Start packing your RV!
Kitchen Storage Ideas
Every kitchen set up is different; some have ovens, whereas others have storage instead. The important thing is, is to maximize the space you already have.
Often, there are taller spaces that if you add a shelf or drawers to maximize what would have been wasted space.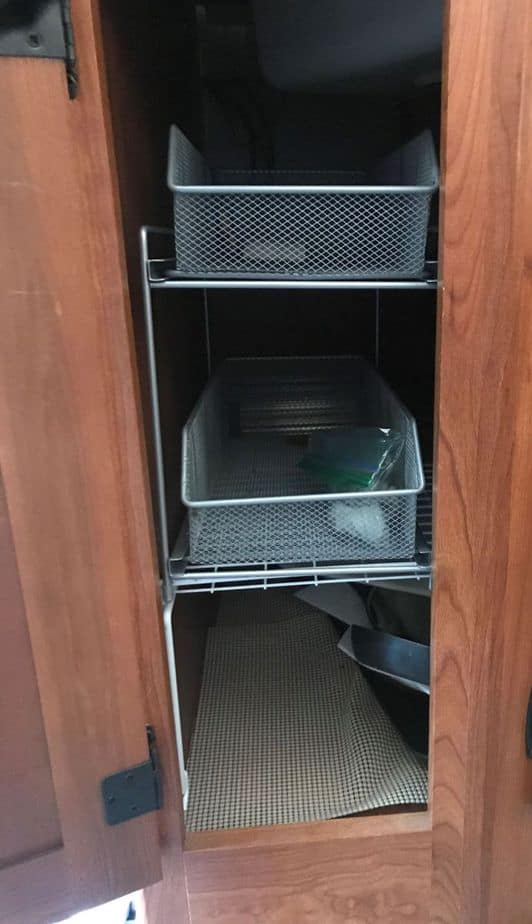 For example, we have a narrow cabinet that opens up into the larger space under the sink, to make the area more user-friendly (check out my tips on how to keep drawers and cabinets closed while driving).
I purchased a two drawer set, which I set on top of a wire free standing shelf.
This area is where I store my commonly used cleaning products, such as dish soap, hand soap, and so on in the drawers.
Tip: Keep in mind which items you will commonly use and keep them in an area easy to access
Recommendations
For my dishes, glassware, and coffee mugs, I store those with my kitchen towels since the towels also act as protection for my dishware.
Plus, I put my glasses in a box I made to keep them from rattling against one another.
Tip: Using what you have for multiple purposes, like the towels, aids in reducing the need to add organizational accessories.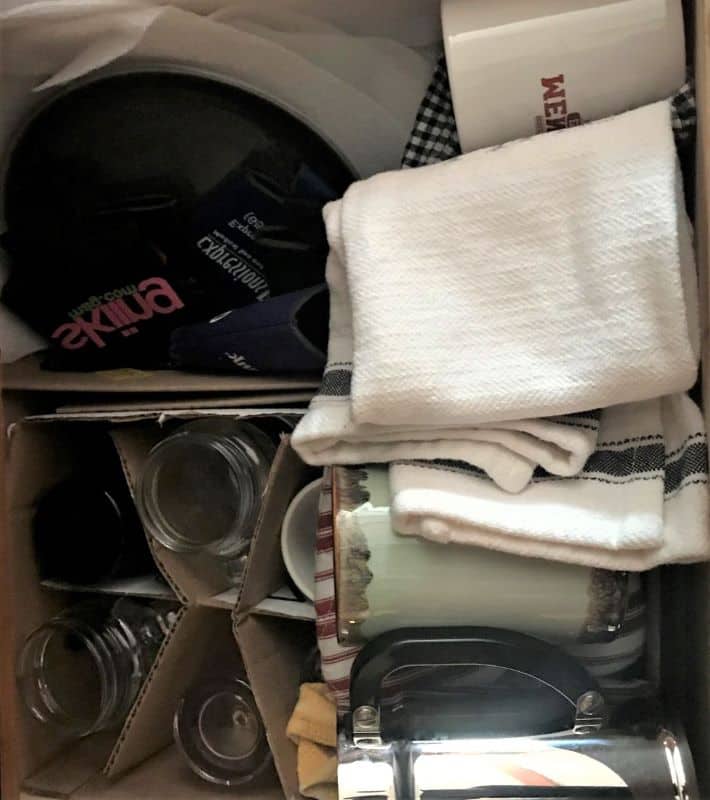 The glassware box is a cardboard box I cutdown, then used the flaps as spacers to keep the glasses from clattering against each other.
If you are looking for something a bit less cardboard-like checkout:
Other organizational ideas for the kitchen include:
Plate holders like:
Hanging Paper towel holder – this will free up valuable counter space.
It's ideal to purchase a ratcheting paper towel holder as it will keep it from unrolling as you are rolling down the highway.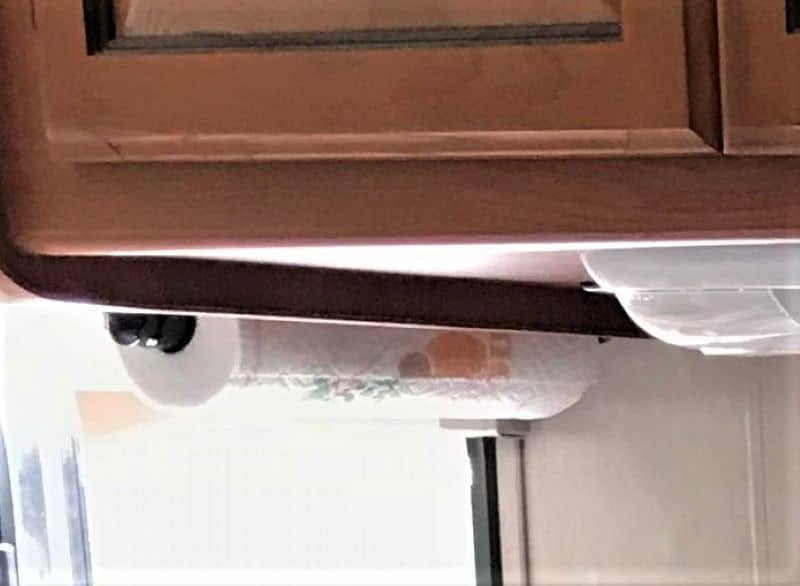 Nesting bowls – Both mixing bowls if you plan to do any cooking and soup bowls.
Collapsable kitchen items
Roll-up Dish Drying Rack – Bonus you can cut it down to the size you want
Undershelf baskets
Tension Rods – These can be used to keep your items secure, or you can mount them vertically so they can organize items like cutting boards, large plates, and cookie sheets.
Magazine Holder for Paper Plates, Plastic Wrap, or Aluminum Foil boxes
Under-cabinet hooks for coffee cups
Hanging baskets to store produce without taking up counter space
Also, if you have a booth-style dinette, don't forget about the storage under the seats. We use that for all of our excess items, such as paper towels, dog food, and soda.
Bathroom Storage Hacks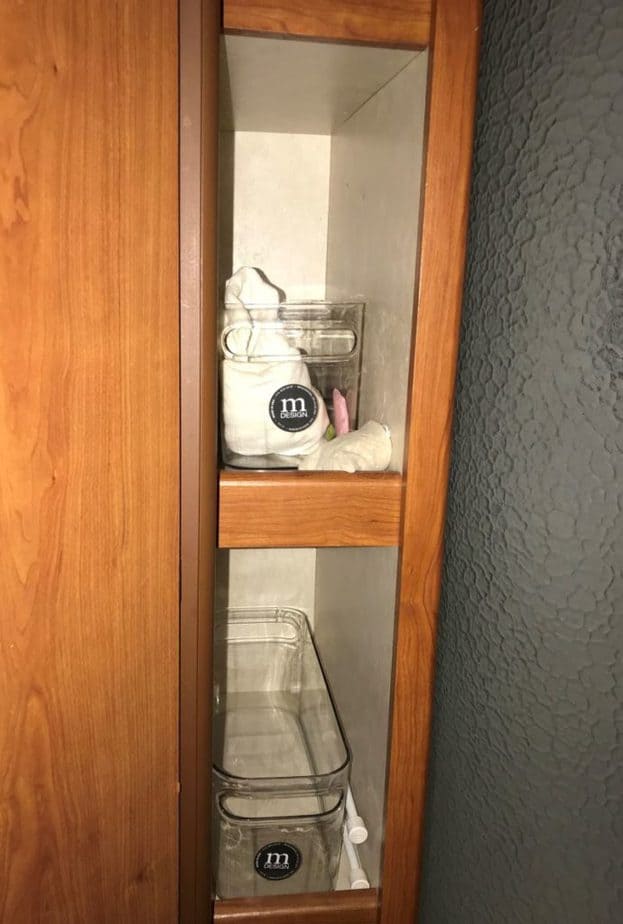 I am unsure as to why this is, but most of the long bathroom cabinets are open fully open from left to right, so unless you pack the space tightly, all of your stuff will slide around and topple out when you open the door.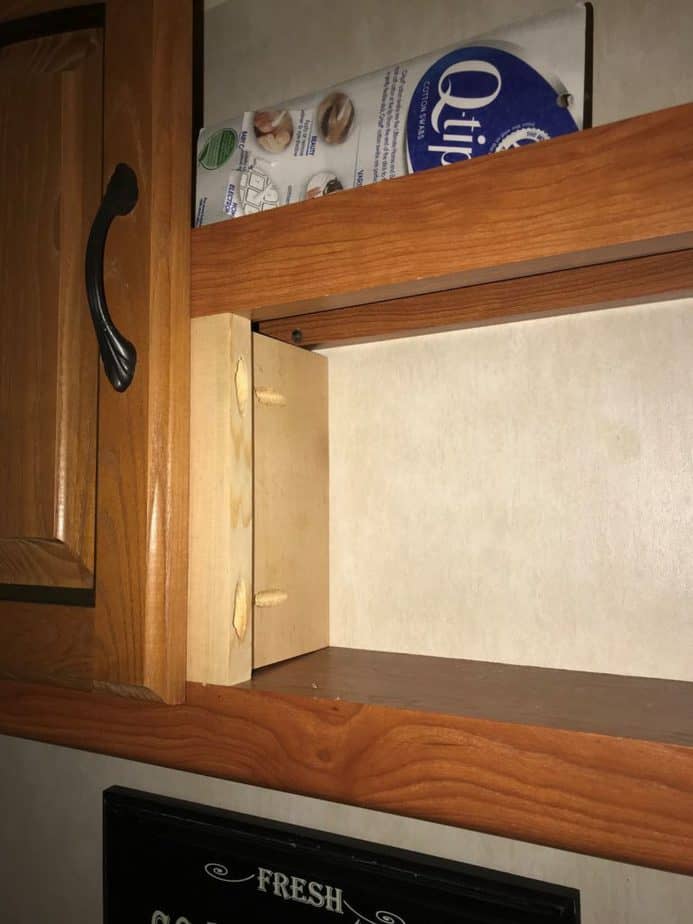 Our fix was to add a scrap 2×4 in the middle so that it creates a more usable space.
Also, it allows us to put in a tension bar to better secure our items since there is not a tall ledge to keep toiletries from falling out when I open the door.
Again I don't know why, but many bathrooms are like ours with shelves but no door.
To take advantage of this space, I have added small storage bins to keep our personal items better organized. On the top shelf, I roll and store our towels.
Additionally, to keep our shampoo, conditioner, and body wash from rolling around the shower on drive days, we purchased a dispenser.
The dispenser not only holds our stuff but also saves space as it attaches to the shower wall, just under the showerhead.
Bedroom Storage Ideas
The biggest recommendation I can give on storage in the bedroom is to fold your clothes, so they stand up on their edge.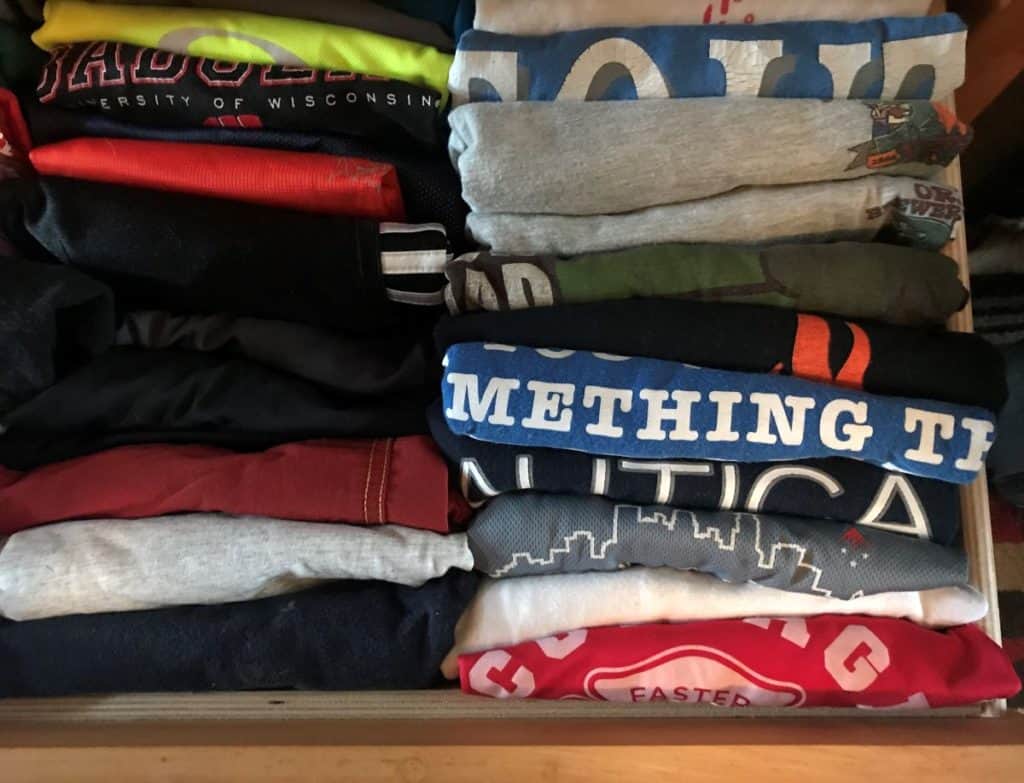 Standing the clothes upright will both save space and let you see what you have in each drawer.
Not all RVs have a nightstand, ours does, but it is too narrow for books or e-readers.
If you enjoy reading before bed and would like a place to store your books, you can purchase or build a book holder that attaches to the wall.
Because we are on a budget, I figured I would go the DIY route. I used pallet wood to make a wall-mounted book holder.
The pallet wood was free; I just had to buy the sandpaper and stain. The screws I used were ones we already had lying around.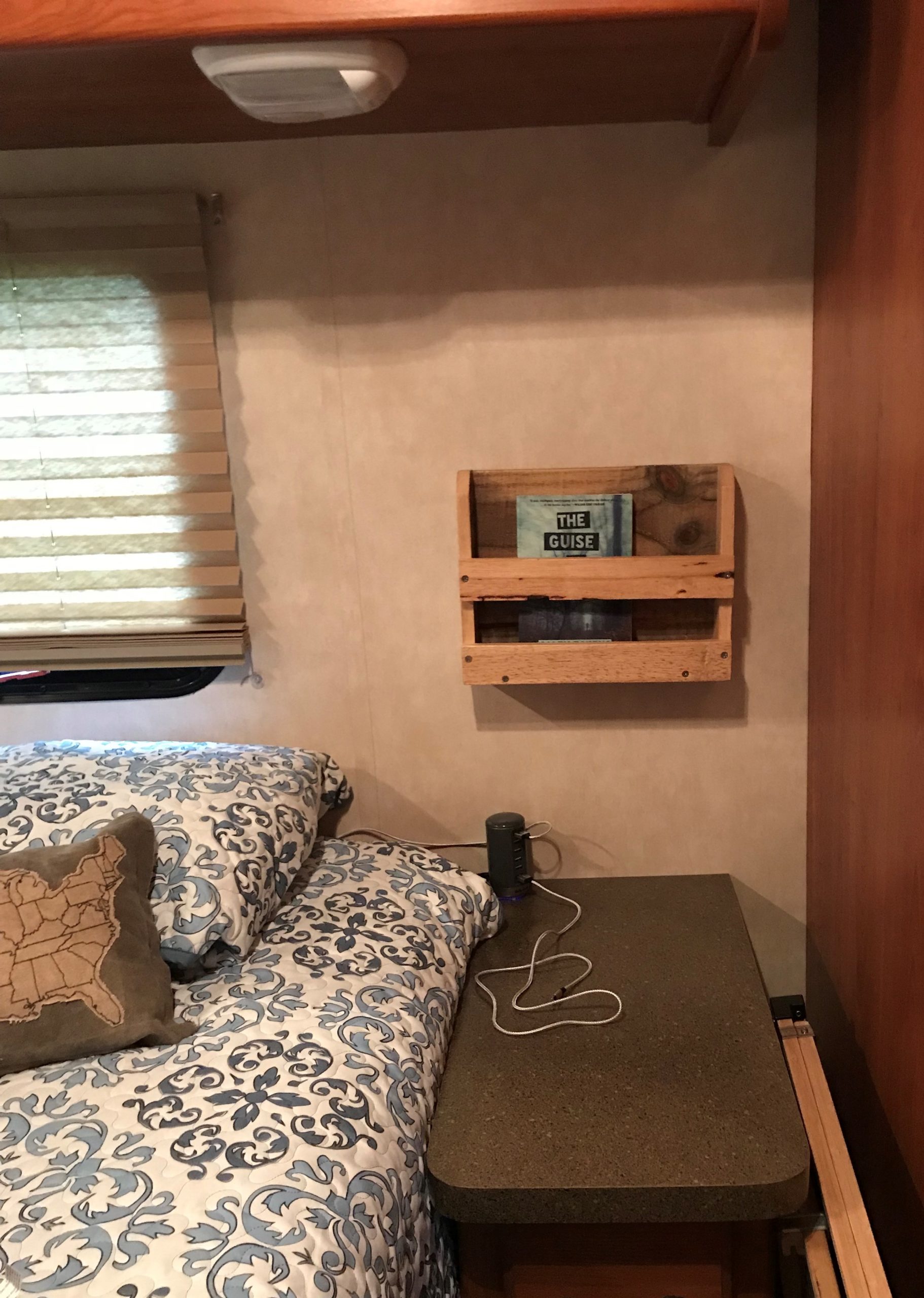 Baskets and totes are also very helpful for organization. We use them everywhere:
Kitchen tools and seasonings
First aid kits
Movies
Dog toys
Extra Blankets
Totes are useful, but baskets are both useful and aesthetically pleasing.
Though not all bedrooms have storage under the bed, some do, which is excellent to use for extra linens, paper products, or larger items like the vacuum.
We use the space for our cat. Lily has her litter box, food, and water underneath the bed.
By storing her stuff underneath it prevents our dogs from eating her food.
We cut a small door on the far side of the bed where no one would see it, put in a rubber mat in case of spills, and then created a space for her litter box so that it is separated from her food.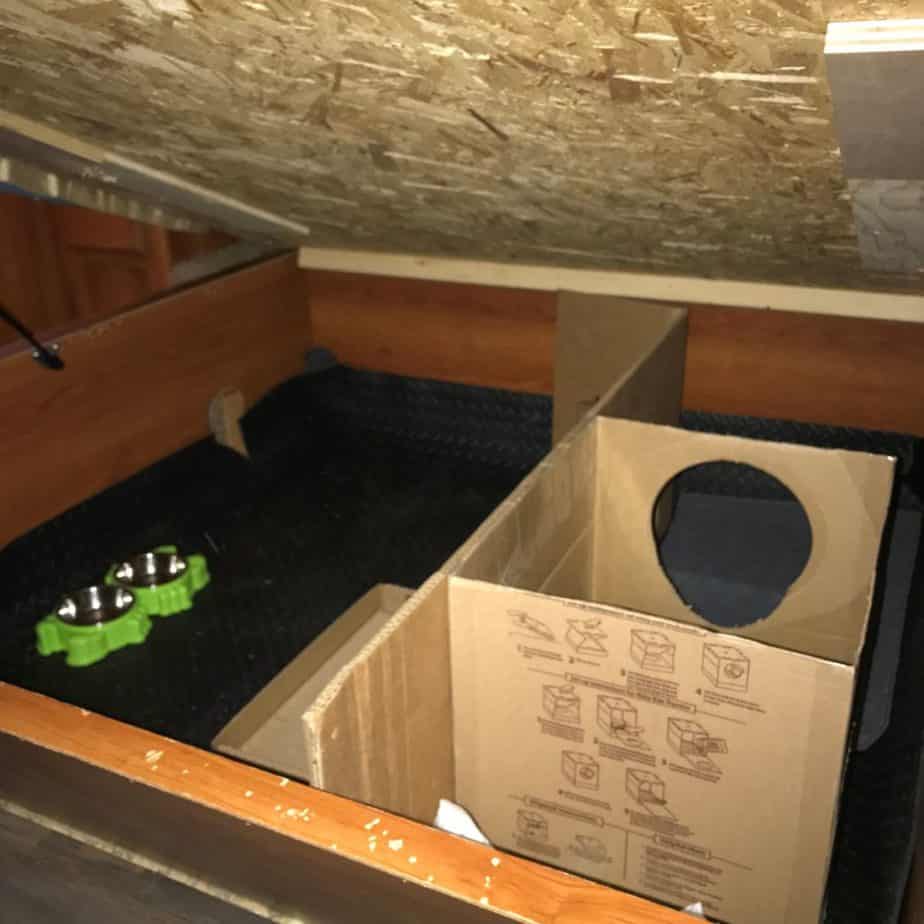 Our wardrobes are tall but only have a clothes bar, to better use this space. I added a small wire shelf for my shoes. These shelves are useful in almost any cabinet.
In previous RVs that had smaller wardrobes, we used totes for our clothes, which acted similar to a set of drawers.
Front Entry Space Storage Ideas
We have an ample entry space that used to have a swivel chair behind the passenger seat since it is just the two of us, we took out the chair and put in a cabinet.
The cabinet holds baskets with our outdoor stuff, like bug spray, our dogs' leashes, etc. Plus, the bottom shelf holds our shoes.
Additionally, it has a pullout desk on the backside for when the passenger seat is turned around.
We also use it to help mount our pet gate, which aids in keeping our dogs from darting out when we open the door and prevents them from falling in the stairwell when we are driving.
My husband made the cabinet, but there are cabinets available for purchase that will work just as well for adding extra storage space.
I have even seen file cabinets used in this space, and some of them use the bottom drawer for wine storage.
Conclusion
There are literally hundreds of storage hacks available.
But the key to successfully pack an RV is creativity, thinking outside of the box, and using everyday items for other purposes, such as the magazine holder or tie box.
I know not all of our hacks will work for everyone, but I am hoping at the very least, it will help you come up with some ideas on how to make the most of your RV space.
So if you keep things organized and use a bit of imagination, you will be able to pack everything you need and then some.
Resources