This post may contain affiliate links. These links cost you nothing and allow us to keep rolling along and bringing you more helpful content.
Are you a new RVer planning a road trip? An RV owner thinking of bringing in some extra cash? Potentially considering becoming an RV owner?
Regardless of your reasons, comparing the top two industry leaders is a must.
Whether you are considering renting an RV or wanting to rent out your RV, I am sure you have started to research both Outdoorsy and RVShare.
And though the two may appear the same, there are differences that both renters and owners should be aware of before committing.
That is why we have put the two side by side, Outdoorsy vs RVShare, to make it easier to decide which is best for your needs.
In this article, we will be comparing policies, insurance, prices, customer service, and more.
Quick Pick: Outdoorsy excels in most of the categories, especially insurance coverage and customer service.
The two companies are both peer to peer RV rental companies, connecting RV renters and owners in a mutually beneficial relationship.
Both Outdoorsy and RVShare are companies that strive to help get people on the road and enjoy the outdoors and nature while at the same time helping RV owners earn some cash when they aren't using their rig.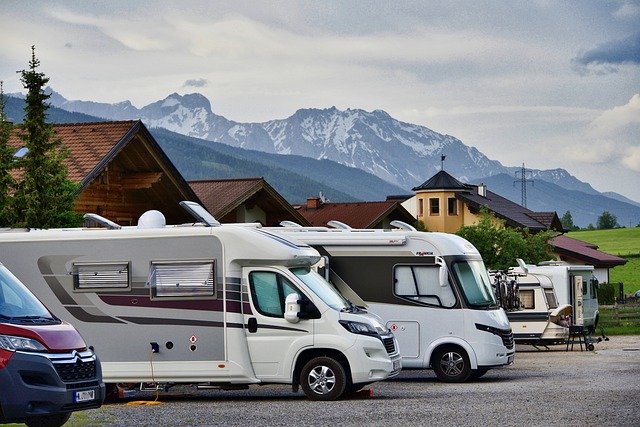 Outdoorsy
Outdoorsy started with a married couple, Jen and Jeff.
In 2014, this dynamic duo decided to leave the corporate life behind to create something great with the goal of getting more campers outdoors.
By late 2015, with the help of two other founders, they launched Outdoorsy.com.
Outdoorsy is best known for its outstanding customer reviews, including those reported to the Better Business Bureau.
Also, Outdoorsy offers high insurance coverage, ensuring the security of both the owner and the renter.
Don't miss our in-depth review of Outdoorsy!
✔
Pros
4.9 Star Customer Review Rating with the Better Business Bureau[1]
Coverage up to $1 million liability and physical damage protection with Liberty Mutual Insurance
24/7 Roadside Assistance
Offers drop-off, set-up, and pick-up service
✘
Cons
If there are mechanical or other issues that need to be fixed, you are required to pay for them when services are rendered, then you submit for reimbursement later. Not all problems will be covered so be sure to understand the policy before renting
At times it has been noted that the wait times to talk to customer service can be extensive
RVShare, founded by Mark and Rachel, got its start in 2012 as the first peer to peer RV rental group.
Their inspiration came shortly after returning from their honeymoon when they started renting out their RV to others.
Though it wasn't long before they realized that there wasn't an easy way to market their rental, so seeing a potential business opportunity, they set off to start RVShare.
Because RVShare has been in business for several years and was the first peer to peer rental company, they have been able to build a wide selection of rentals from all over the US.
Plus, they also connect customers with RV rental agencies in addition to owners, making them an easy one-stop-shop, for comparing prices and services.
Additionally, they have made it their goal to improve customer service, which is seen in their improved Better Business Bureau rating[2].
RVShare's push to shore up customer concerns and hard work to improve their customer's experience has proven to be successful based on recent reviews.
Check out our full review of RVShare, too!
✔
Pros
A large variety of RV options
5% loyalty customer savings
Offers drop-off, set-up, and pick-up service
Lists both peer to peer and RV rental agencies
✘
Cons
Doesn't require proof of annual checkups
They don't list their insurance partners' names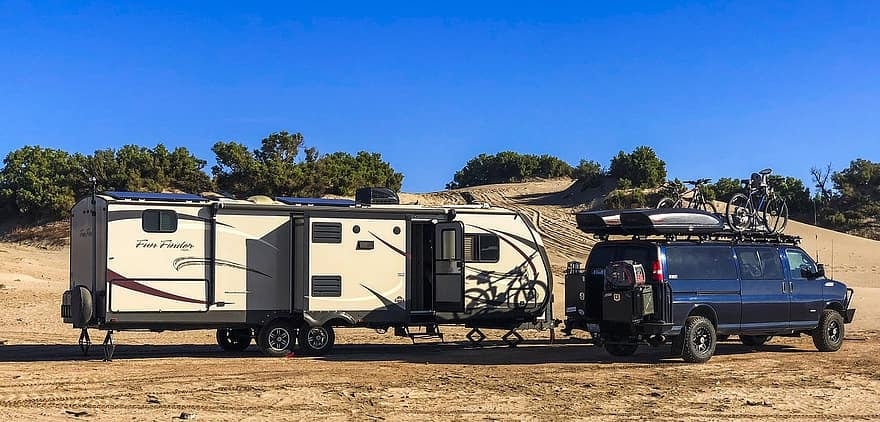 Face to Face Comparison
Price
Winner: Outdoorsy
I put in parameters based on where I live for four nights in September.
Plus, I was able to find two RVs from the same owner posted with both websites.
Although Outdoorsy includes a 10% discount, their prices on 2 out of 3 rentals are a hair better than RVShare.
| | | |
| --- | --- | --- |
| | RVShare | Outdoorsy* |
| Jayco Red Hawk – Class C | $1,278.00 | $1,171.80* |
| Jayco Jay Feather Trailer | $535.00 | $674.80* |
| Airstream – 2017 Airstream Sport Bambi 22FB | $1,125.00 | $1,020.45* |
* Prices include their ongoing 10% off discount
Most of the per night fees are the exact same, the price differences come up in the taxes and fees:
| | | |
| --- | --- | --- |
| | RVShare | Outdoorsy |
| Tax | $75 | $72 |
| Service Fee | $86 | $96 |
| Insurance | $158 | $139.80 |
Based on the Jayco Red Hawk
Refund Policy and Procedure
Winner: Outdoorsy
Outdoorsy's refund is more user friendly to both parties. Refunds for cancellations are issued automatically based on the cancellation policy.
If it is a negotiated refund between the owner and renter, the owner can initiate the refund through their dashboard.
RVShare will process all refunds agreed upon between the two parties once the owner contacts them with approval of the refund.
24/7 Roadside Assistance
Winner: RVShare
Outdoorsy includes roadside assistance on most rentals, but not all.
Those that do not have roadside assistance can purchase it for an additional fee.
RVShare includes it on all rentals at no extra cost.
Helpline
Winner: Outdoorsy
Outdoorsy advertises a 24/7 helpline, which is a comfort for those renting who may run into issues.
RVShare offers an 800# on their help page, but there is nothing I could find regarding the hours of operation.
Inventory
Winner: RVShare
Based on where I live, both had more than 200 rentals available; however, RVShare had more rentals available closer to my location.
Payment
Winner: Tie
Both RVShare and Outdoorsy send payments to the owner 24 hours after the rental begins.
Insurance Coverage
Winner: Outdoorsy
Both companies offer three tiers of insurance to the renter.
However, all of Outdoorsy's policies have "$1M insurance protection covering the renter, owner, and vehicle.[3]"
Commission
Winner: Outdoorsy
Though Outdoorsy charges between 20%-25% commission on rentals, RVShare does not state their commission range, only that it is based on "many factors."
Though. it is negotiable with your rental coach.
Website
Winner: Tie
Both websites are straightforward to navigate through and have shortcuts to cool features such as choosing a state park and seeing what RVs are available to rent near that location.
Additionally, both of the Help Centers are the same and easy to find using their dropdown.
And both make it easy to find the perfect RV using filters to help you find the ideal RV for you and your situation.
Cancellation policy
Winner: Outdoorsy
Both companies allow the owner to choose between three cancellation policies, and all three levels are similar.
But, Outdoorsy allows for cancellations closer to the reservation date with fewer penalties.

RV Share
Outdoorsy
Flexible
• Prior to 30 days full refund minus service fees
• Within 30 days 50% refund minus service fees
• Prior to 5 days in advance full refund minus service fees
• Within 5 days of start date a 75% refund is issued minus fees and reservations deposit
Moderate
• Renter may receive full refund of money minus the RVshare service fee collected up to 30 days before rental
• 50% refund of money minus the RVshare service fee collected 30- 14 days of rental
• No refund within 14 days of rental
• Reservation deposit is nonrefundable if canceled before 7 days before leaving
• If canceled within 7 days 50% refund minus any fees
Strict
• Renter may receive full refund of money minus the RVshare service fee collected up to 30 days before rental
• No refund within 30 days of rental.

• Canceled more than 14 days prior to booking start date, a partial refund of 50% of the full rental amount (minus fees) is issued
• If only a reservation fee has been paid then no refund is issued.
• If canceled less than 14 days prior to booking start date, no refund is issued
Be sure to double check policies as they are subject to change
Customer Review
Winner: Outdoorsy
| | | |
| --- | --- | --- |
| Better Business Bureau | RVShare | Outdoorsy |
| BBB Rating | A+ | A+ |
| Customer Reviews | 4 stars from 768 Customers | 4.9 Stars from 755 Customers |
| Customer Complaints in the Last 3 Yrs | 90 Complaints | 65 Complaints |
| Complaints Closed in the last 12 Months | 32 Closed | 47 Closed |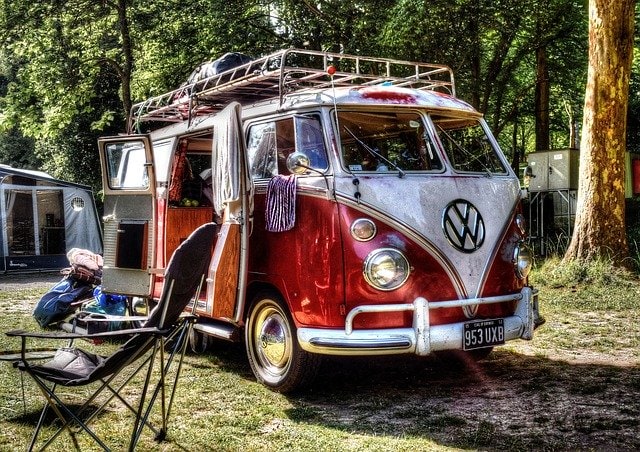 Unique Features
Outdoorsy
Outdoorsy has a 90-day inspection requirement. It states that owners must complete a technical inspection every 90 days, using a process outlined by Outdoorsy.
Some of the things that are on the checklist include:
Tires
Brakes
Refrigerators
Awnings
Slideouts
RVShare has a 5% discount on future trips after your initial rental.
Plus, there's a Worry-Free Rental Guarantee:
Payment protection against listing fraud
Rental assistance if the RV has been misrepresented or the owner denies you access
Rebooking assistance provided by the RVShare Booking Services Team to help you find another RV in the event your booking has been canceled by an owner at the last minute
Security deposit protection to aid you if you are disputing a charge and your money has been withheld after your reservation
Conclusion
Outdoorsy and RVShare have many similarities.
If I had to pick only one RV company, I would choose Outdoorsy.
But if RVShare were the only one with the RV I was looking for, I would be more than comfortable booking through them.
The reasons I prefer Outdoorsy is because they have a friendlier cancellation policy, higher insurance coverage, and are slightly less expensive.
Also, Outdoorsy advertises 24/7 assistance, which gives drivers peace of mind knowing its available in case of any problems.
FAQs
Is Outdoorsy Reputable?
Yes, they are a reputable company and have a high standing with both customers and the Better Business Bureau. Also, Outdoorsy provides more detailed information that is easy to find on the website.
Yes, RVShare is legit. They were the first peer-to-peer RV rental company and have several years of industry experience.
Resources