This post may contain affiliate links. These links cost you nothing and allow us to keep rolling along and bringing you more helpful content.
I've always loved the idea of traveling the country in a spacious motorhome with my family.
Having the freedom to stop wherever we feel like, and taking in the sights we miss when traveling by airplane, are all part of the experience I dreamed of.
Yes, I could hop into my car and go for a road trip, and I've done that. But I like the outdoors and love camping at different parks.
However, as I've gotten older tent camping has begun to lose its appeal, but being out in nature has not. So, taking an RV instead of a tent seemed like the perfect solution.
Five years ago, when my husband and I set out to make our dream of an RV road trip a reality, we decided that renting an RV would be the best option.
As we all know, sometimes the real experience is very different from our dreams, and we didn't feel that buying an RV before trying one was a wise investment.

When we first started our research, we realized this was no small adventure. In fact, through research, we learned a lot, which aided us in the success of our first RV trip. There are many things to consider before renting an RV.
Things such as:
The number of people going, and their ages are there kids? Seniors?
Are you bringing pets?
Where are you planning on going? RV Park? National Park? Through the mountains?
What size and style of RV should you rent?
What activities are you planning? Biking, Boating, Kayaking?
Where Should You Rent Your RV?
There are a few different rental options.
RV rental companies that specialize in rentals like Cruise America.
RV dealerships that both sell and rent RVs like Camping World.
Third-party rental companies like Outdoorsy and RVShare (our RVShare review) that connect would-be travelers with RV owners willing to rent their RVs.
Directly renting an RV from the owner – these can be found on Craigslist.
Regardless of where you rent your RV, be sure that the rental includes roadside assistance. Changing a tire on your car is very different than changing a tire on an RV.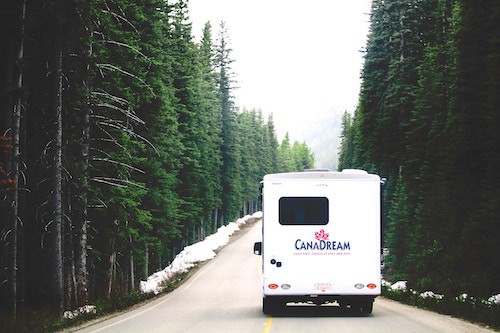 Also, when renting an RV, read all of the paperwork. Often rental costs are a combination of factors, such as
Nightly Fee
Mileage Fee
Generator Hourly Fee
Cleaning fee if returned dirty
Pet Fee
Add on fees for things like kits, bike racks, and grills.
Finally, remember to check restrictions on the RV. Most RV rentals have a minimum age requirement of 21 years old, but some restrictions have a minimum age of 25 years old.
If you plan on taking your pets, be sure to check on pet restrictions, some allow dogs and others don't.
Also, there may be pet restrictions based on the type of pet (we travel with our dogs and cat), size of pet, and the number of pets.
How Big of an RV Should You Get?
The next big question is how large of an RV should you get. At first, going with a larger one for more room always sounds good.
But, keep in mind that a larger RV usually consumes more gas. Also, depending on where you plan on staying, there may be different length and slide-out restrictions.
Most often, the size of the RV will depend on the number of passengers. However, keep in mind a more spacious RV may be a better choice if you are planning on a longer trip.
Also, you will want to think about where you plan on going on your trip. RVs are great on the open roads, but they aren't the best for city traveling.
The smaller RVs will be easier to maneuver if you plan on driving in higher traffic areas. Thankfully, there are several sizes to choose from so, most everyone's needs can be met.
What Kind of RV Should you Rent?
Size isn't everything when it comes to RVs. In addition to deciding on which size of RV would be best, you also need to decide on which style of RV you want to rent.
Most companies that rent RVs only have Class C or Class A rentals. However, the third party and private party rentals have all different types.
Class A – These have a large flat front, sit up higher than other vehicles, and do not have the traditional door placements like the other classes.
Class B – These are often referred to as campervans, as they look just like a van.
Class C – These are built on a specially designed truck chassis. Also, the cab of this motor home is similar to that of a truck.
Pop Up Camper – These are towed behind vehicles, because of its smaller and lighter size it can be towed behind most midsized SUVs.
Fifth Wheel/Travel Trailer – These are larger campers and have a similar layout to a motorhome, but are towed behind the vehicle.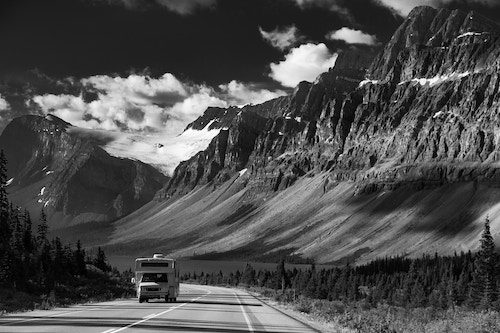 Also, if you plan on towing a car, boat, or trailer you will need to keep that in mind as well as that may impact which style of RV would be best.
No one style is suited for everyone; it all comes down to what you need.
We like the Class A motorhomes because we travel with our four dogs and cat, so we need the room.
We have tried all of the different RVs except the Class B and the fifth wheel, and they all have their pros and cons.
We like the Class A because it is impossible to travel long distances with so many animals. With a Class A, they can all spread out comfortably and even move around a bit to stretch their legs.
We have a unique family so just because the Class A works best for us doesn't mean it's the right choice for everyone.
What to Expect When you Rent an RV
The day you pick up, or the RV is dropped off, you will receive a tutorial on how things work. I would still urge you to check out some YouTube videos in advance to get a feel for how things work.
If you are picking up the RV, you will want to plan enough time to transfer and set up all of your stuff. Some RV rental places will hold onto your luggage while you are away, be sure to inquire ahead of time to see if that is an option.
Additionally, you will want to find out if you can leave your car there, not all places have space. So be sure to plan ahead.
You will need to bring your drivers license and all potential drivers in must be present at the time of pick up. Depending on where you are renting proof of personal car insurance is required, again check with the rental group ahead of time.
Most rental companies are like car rentals, your insurance can provide coverage, but additional coverage is often available at the rental location.
Finally, partial or full payment is required in advance. The rental company will ask you how many miles you expect to travel. If you are over or under the estimated mileage, you will either need to pay additional fees or be credited for the unused miles.
What to Bring on Your RV Trip?
Sorry for the lack of a straight forward answer here, but it depends. Some of the rentals come fully equipped with things like linens and dishes, whereas others come with nothing at all.
So, when considering what you need to pack, take into consideration how long you will be gone and where you're heading.
There are tons of WalMarts off the freeway, so if you forget something, they are a great place to stop. Also, we like WalMarts because they are normally just off the freeway and they have large parking lots.
I'm not going to list out the obvious things, like your clothes, medications, and toiletries, but here are some things you may not think about:
Garbage receptacle
Coffee Maker
RV TP – RVs require special toilet paper
RV Tank Drop-Ins – These are for the toilets. The drop-ins help keep things smelling better, and it helps to break down the TP and waste. There is a liquid version, but the drop-ins are more convenient.
General camping gear like bug spray, flashlights, lantern, etc.
Tension Bars – You may want to see about renting these, they help keep everything in its place. When driving down the road in your house, the items in your cupboards and fridge tend to move. These rods will help keep things from falling out when you open the door.
Linens – For the bedroom, bathroom, and kitchen. Some places have them available to rent.
Dishes/Glassware/Utensils/Pots and Pans – Some of the privately-owned RVs come with kitchen amenities like pots, pans, and dishes. However, the majority of rentals do not. You can rent kitchen utensils and dishes or bring your own.
We use a combination of regular plates and disposable items. We do our best to use regular dishes, but occasionally convenience wins out, and we use disposables to avoid having to wash dishes before getting on the road.
Dish soap
Cleaning Supplies – Including a Broom or Swiffer. Whether you are renting a pop up or a motorhome, they need to be cleaned before they are returned. Also, depending on how long you plan to be gone and where you are going, you may want to clean the RV from time to time.
Cooler – The refrigerator in the RV is not the same as what you have at home. It is smaller and takes longer to cool down. Bringing a little cooler for beverages can save on the number of times you open the fridge door, which will keep your fridge at the correct temp.
First Aid Kit
Camp Chairs
Outdoor mat to wipe your feet, it's amazing how much dirt is tracked in when camping.
Outdoor awning or pop up tent for shade, some rentals have awnings, but not all of them.
If you plan on things like bicycling and kayaking, you will want to be sure you have a way to secure your equipment to the RV.
This is just a general list and does not encompass everything, but hopefully it will get you started in the right direction.
Final Thoughts
If you have ever been curious about taking a long road trip in an RV, I would always recommend renting before buying. Renting an RV will be an experience you will not soon forget.
Camping in an RV brings a whole new level of greatness to the experience. Essentially, it removed 99% of the things I didn't like about tent camping. The only thing it didn't fix was the mosquitos!
For us, RVing was everything we had hoped it would be. Unfortunately, that is not true for everyone, so I encourage anyone new to the RV adventure to rent before buying.
Not only will you find out if it's something you enjoy you can also decide on which style of RV works best for you.
FAQ:
Do I need a special license to drive an RV?
Nope! Even though some RVs are as long as a bus, there isn't a special permit or license needed to drive an RV.
Are there places I can't drive an RV?
Yes, though there aren't a lot of restrictions, it is still good to check with your rental company.
Can you park overnight in WalMart parking lots?
Yep! Most WalMart parking lots allow overnight parking. The few stores that don't let you hav it marked.