This post may contain affiliate links. These links cost you nothing and allow us to keep rolling along and bringing you more helpful content.
RVing is becoming a more and more popular way for people to travel.
It is a great way to see the country and spend time outdoors.
However, not everyone is either able, ready, or interested in buying an RV, which is why renting an RV is so beneficial.
Plus, renting an RV can save you up to 57% on vacation costs[1].
However, for those new to RVing, we have some tips for renting an RV that will help make the renting and travel experience a lot easier and more enjoyable.
And, having heard some nightmare rental stories from friends, family, and other RV enthusiasts, we thought it would be helpful to put together an easy guide to reduce the chances of issues and accidents.
By taking the time to do some research and planning, a fair number of issues can be avoided, plus you ensure you have the best RV vacation possible.
Tip #1: Plan Your Budget
This may not be your favorite part of the trip planning experience, but it is an absolute must.
Renting an RV from a rental company like RVShare or Outdoorsy, can be less expensive than some vacation options, but there are still several expenses to keep in mind, like:
Mileage – Most RVs come with a daily mileage allowance but charge for anything above and beyond
Generator Use – Pretty minimal, but worth noting; like mileage, there is often a charge for anything above the daily limit
RV parks – This can range from $25/day up to $94+ per day depending on where you stay
Gas – Remember you aren't likely to get 20 MPG; we have a class A and get 7 MPG on our good days
Food
Attractions and activities

Tip #2: Plan Your Trip
Have a good route figured out and places to stay along the way.
If you plan on camping June-August, it is best to make reservations as that's the busiest time of the year.
My dad prefers to go where the roads take him, and unfortunately, he has not always found an open RV park. Some of the places we stay we book six months in advance and sometimes don't even get our first choice.
Also, planning your route ahead of time is always a good idea.
Some of the mountain areas are not ideal for RV travel, such as the Big Horn Mountains in Wyoming.
And, if you are new to driving an RV, that mountain pass can be a bit daunting. Even though we have been RVing for years now, there are some mountain regions we steer clear of when possible.
Click here for Tips for Picking Your Campgrounds or Choosing Your Route
Tip #3: Know Your RV Choices
Class A: Class A's are the motorhomes with the flat fronts; they are often on the larger side with a lot of fun amenities and slideouts – Ideal for glamping, large groups, and longer trips, though they can be on the more expensive side and not ideal for sightseeing
Class B: These are souped-up camper vans – Ideal for city travel and easy and fast set up, though they lack the amenities found in other styles
Class C: These have a pickup truck front but are a motorhome with many of the amenities of a Class A – Ideal for those who prefer the truck cab front, but are usually too big for city travel
Pop-Up: These are best described as a cross between a tent and a camper – Ideal for those looking for a more economical choice, but they do require a significant amount of set up time
Camper Trailer: These require a vehicle with a high enough towing capacity, some peer to peer rentals also rent their trucks. Camper trailers come in a wide variety of sizes and shapes and are the most versatile of the RVs, ideal for those looking to drop off the camper and go sightseeing. However, they do not provide the same comforts as a motorhome on longer trips or with larger groups
Learn more about the differences between these types of campers
Tip #4: Choose your RV Wisely
Bigger isn't always better and cheaper isn't always worth saving that extra dime.
Tis does not mean that small and expensive is the way to go either, but simply ensuring you choose the right RV for you is best.
I have been asked numerous times what RV is the best to rent, and my answer is always the same, "It depends," followed by a whole slew of questions, like:
How many people are going?
Size matters when it comes to RVing.
RVs are like tents when it lists the capacity. Sure, you can fit ten people into a tiny tent lined up like little sardines, but who wants that?
RVs are similar.
Sure, everything seems to turn into a bed, but where will people be keeping their gear? Will the early birds be bothered when they want their morning cup of Joe only to find someone is sleeping on the dinette table and couch?
So, when choosing the right RV, be sure to check out the floor plan and read reviews to see if it is spacious enough for your needs.
And, if it's just two people, you can save a little money by going a bit smaller.
How long are you planning on traveling?
The longer you are on the road, the more likely you will want a bit more room to spread out to avoid feeling cramped after the first week.
Likewise, if you are just going for the weekend, you may not need a 35 footer for only two people.
What are your vacation plans?
Say you are heading south to the Lone Star state, and you want to stop in San Antonio to see the Alamo. Chances are you will have a hard time finding a place to park your 30 foot RV.
Plus, speaking from experience (on our first RV trip), the roads are quite narrow and not easy to maneuver an RV through. Needless to say, we didn't get to see the Alamo.
The best solution to this challenge is to either get a tow behind camper or tow your vehicle, so you have an easier way to see the city.
Have you driven an RV or towed a camper before?
Having had never driven anything bigger than a pickup truck, driving an RV was an eye-opening experience.
Not only was it longer, but it was much broader too.
Plus, stopping, turning, and blind spots are all very different than a commuter vehicle. And the road conditions make a huge difference in an RV too.
For example, driving through the mountains, on a windy day, or on a dirt road are all very different experiences behind the wheel of a motorhome or when towing camper.
So, ensuring you choose an RV style and size that you are comfortable with is absolutely vital for a safe and fun trip.
Where are you planning on staying?
A luxury park with all the amenities? Or a bare-bones state park with no hookups?
If you won't have any hookups, it's best to choose an RV with a generator if you want the convenience of electricity, such as lights, recharging phones, etc.
However, if you are staying at a location with full hookups, a generator isn't needed.
Meals?
Are you planning on cooking?
And if so, are you thinking of tossing something on the campfire or cooking up the fresh catch of the day, crab cakes, and cheddar-bacon biscuits? (One of my favorites to make when we are on the ocean)
Not all RVs come equipped with a full-size kitchen, and some of the smaller tow behinds have no kitchen at all.
I use the stovetop and oven all the time when we're camping in the spring and fall but avoid cooking indoors during the hot summer months.
Glamping, camping, or something in between?
If you are only looking for a warm, dry place to rest your head at night, then going with a small economical tow behind is likely all you will need.
But if you are hoping to enjoy sitting on a comfy couch watching your favorite movie on a rainy day, then you are going to need a step up from that and consider a more luxury option.
If you're looking for something in between, maybe find a pop-up with screened sides, mini-kitchen, and bathroom.
Weather?
Not all campers are made for extreme temperatures. If you like winter camping, you will need to be sure to find an RV that has a heater for the tanks, so they don't freeze.
Additionally, if you are looking to camp in the colder months, finding an RV that's better insulated will help make the experience more enjoyable.
And if you are hoping to camp in the hot Arizona desert, then looking for one equipped with at least one AC unit is a must.
How many stops are you planning?
Multiple stops mean multiple setups, so choosing a camper that is easy to set up might be the best choice, like a class B.
But if you are looking to stay in just one spot, maybe consider using a drop-off and pickup service to avoid the stress and hassle of driving the camper yourself.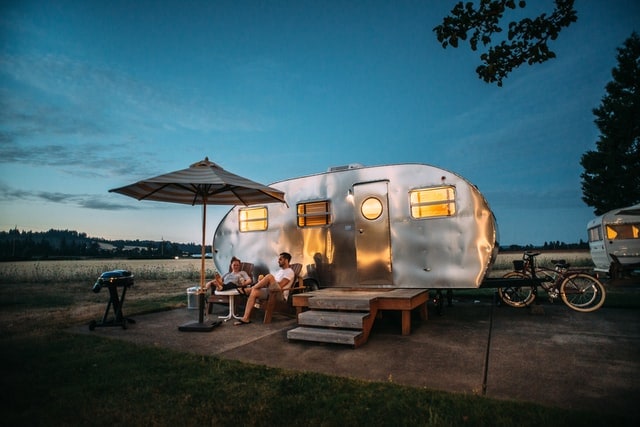 Tip #5: Know where You Can Rent From
Today there are numerous places to rent an RV from, like:
There are three basic types of rental groups:
Peer to Peer like Outdoorsy and RVShare

– Peer to Peer rentals is where you rent from the RV owner, much like a VRBO, but these have wheels.

RV Rental Agencies like Cruise America and El Monte RV

– These are traditional rental companies, like a car rental group.

RV Travel Agencies like Camper Travel

– These agencies find they help you find the right RV by working with multiple dealerships around the world.
They all have their benefits, but based on my research and reviews I've read, I would highly recommend Outdoorsy.
They offer an extensive choice, RV drop off and pick up service, plus you can find an RV close to home.
Tip #6: Understand the Listing
It is critical to read the listing thouroughly, as there are several things to take note of, like:
Overview – This will give you a fair description of the RV itself, how many it sleeps, basic amenities, and so on.
Rules – Some RVs have restrictions when it comes to pets, smoking, and festivals.
Add-ons – Some of the RVs offer kitchen sets, outdoor sets (camp chairs, outdoor tables, etc.), and linens. It is essential you check to see if these things are included in the rental cost or as an additional charge. If it is an additional fee, you can always choose to bring your own supplies.
Services and fees – Such as delivery and pickup, cleaning before and after, late charges, and tank dumping; you mustn't assume all fees are the same as RV owners can set their own prices as they see fit.
Amenities – Things such as leveling jacks, air conditioning, TVs, and generator.
Insurance and Roadside Assistance – You will need both; some rental groups include it in the price, and others have multiple choices for coverage amounts.
Understand what you are responsible for when on the road – For example, once you take ownership of some rentals you are responsible for any repairs including parts and service costs, so if your rental RV blows a tire, you are responsible for paying for the replacement tire and service.
Tip #7: Get All of Your Questions Answered
After reviewing several RV rental groups, I found the most significant customer complaint could have been avoided with better upfront communication.
Many things can be misinterpreted or wrongly assumed when renting an RV, so it is always best to be sure everything is crystal clear before you commit.
If there are any gray areas, say, around the cancellation policy or additional fees, get your questions answered ahead of time to prevent confusion and stress later.
It is also highly recommended you keep communication on the rental website platform; this keeps it secure and easy for all parties to refer back to in the event of a miscommunication.
Tip #8: Use a Checklist
Checklists are vital to successful RVing.
There are several checklists to consider:
What to Pack – Not just your stuff, but other things like hoses, RV TP, and toilet treatments.
Mini Tool Kit – RVs are not as durable as houses; they are built with lightweight materials, which aids in keeping the weight of the RV down, but also means that things are not always as sturdy as you might like.
Set Up and Tear Down – You don't want to be rolling down the highway with your awning out – The setup and tear down checklist are the same, you just do the teardown in reverse[2].
RV Departure- We check things like the oil and tire pressure every time before we leave, and multiple times on long trips[3].
RV Etiquette – Might sound odd, but if you are new to RVing, you don't want to be the bad neighbor. It's worth reading through before hitting the road[4].
Conclusion
Before our first RV trip we researched for countless hours, yet we still made plenty of mistakes, such as not checking the floor before putting in the slide-in, which broke a bit of molding.
Or having our sight-seeing adventures curbed because we hadn't planned on the lack of parking and maneuverability of a 27-foot Class C in Santa Fe.
All RVers have made their fair share of mistakes, especially when first starting.
And a horrible experience can put some people off of RVing forever.
It is my goal to help you get started on the right foot, so your RVing experience is memorable for all the right reasons.
Resources