This post may contain affiliate links. These links cost you nothing and allow us to keep rolling along and bringing you more helpful content.
Our annual RV trip is just nine weeks away, so it's time to start getting the RV ready.
We purchased our motorhome last year and have slowly been making minor updates to suit our needs better.
One of the adjustments we are undertaking is changing out the RV shower head. Currently, we have the standard handheld that comes with most RVs.
Though there is nothing wrong with that option, I prefer my showers to have more water pressure if possible.
The water pressure in our RV is quite different than when we are at home[1], and I am hoping that by making this minor adjustment, we will see a big difference in our water pressure in the shower.
If we are not at a campground with hookups then we are limited to the water we have in our tank.
And, even if we do have a water hookup but no sewer, we have to be aware of the space in our gray water tank.
Because there is a multitude of shower head choices available, I had to take some time to research the different ones to determine what would work best for us.
Below I have listed my findings for the best showerheads depending on their specific features.
The 9 Best Shower Heads for RVs
Best Shower Heads for RVs: Winners
Best RV Shower Head (for Most People)

Oxygenics Fury RV
The Oxygenics Fury RV is the ultimate shower head.
The Fury features five different settings, allowing you to change the pressure and coverage. The settings options include classic spray, focus, and massage.
Additionally, this handheld system also has a non-slip rubber handle and a 72-inch hose, making showering a lot more effortless.
The Fury offers a high-pressure shower experience without draining your water tanks, making it ideal for dry camping.
Plus, the Fury does provide a dribble function, allowing you to minimize water usage when full water flow is not required.
The Fury's overall design and color options will give your shower an upscale look.
Highlights
3 Color options: Brushed Nickel, White, and Chrome
Designed to prevent clogging and corrosion
Engineered to maximize your shower experience yet minimize your water usage
Best RV Shower Head for the Money (Budget Pick)
PIH High-Pressure RV Handheld
The PIH High-Pressure shower head unit comes with three different water flow settings, classic, pulse massage, and pause.
The PIH system increases water pressure without using excess water. And the broad shower head design increases water flow coverage.
The PIH unit includes:
59-inch hose
Shower bracket for easy mounting
Handheld shower head
But one of the best things about this reliable handheld shower head is the price, since it retails for under $20.
Highlights
Easy installation
Price
Three water flow settings
Best RV Shower Head on the Market (Upgrade Pick)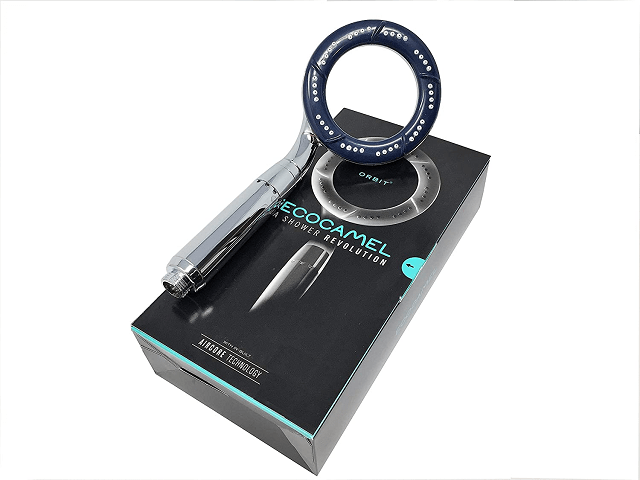 Ecocamel Orbit SoftWater Handheld with Orb Spa Vibra
If you are looking to upgrade your shower to a luxury spa experience, check out this double-unit shower head system.
The Ecocamel handheld unit features a unique hoop design aiding to produce a more robust stream for a more enjoyable shower.
Additionally, it uses a patented technology that gives hard water a softer feel.
The treatment system allows for better soap lather, smoother skin, and reduces scaly water film.
If you purchase the Orb Spa accessory, it changes your shower into a full spa event.
This unit attaches to the shower head, or it can be used separately. It features a 54 soft-touch sensor that works with the 3 Speed electronic massage system.
Plus, this sonic unit exfoliates while it massages.
Highlights
Massaging shower head
High water pressure with minimal water usage
Transforms hard water to feel and act like soft water
Best RV Shower Head for Low Water Pressure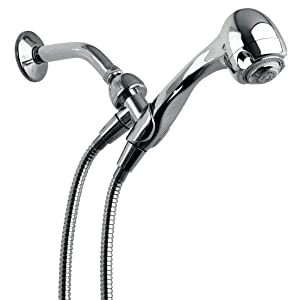 Niagara Conservation Earth Spa
The Niagara Conservation Earth Spa has earned its name by producing a consistent and powerful water stream while at the same time minimizing the overall water use.
Niagra technology is 40% more water and energy-efficient than standard shower head units.
So, you get to enjoy a pleasant shower experience and not worry you are draining your water tanks.
The Earth Spa features 3-spray options and non-aerating spray technology to maintain steady water temperature.
Plus, it is made from ABS thermoplastic, reducing the chances of corrosion.
Highlights
Transforms low water pressure sources into a high-pressure shower
72-inch Stainless steel hose
Reduces water usage by 40%
Best Handheld RV Shower Head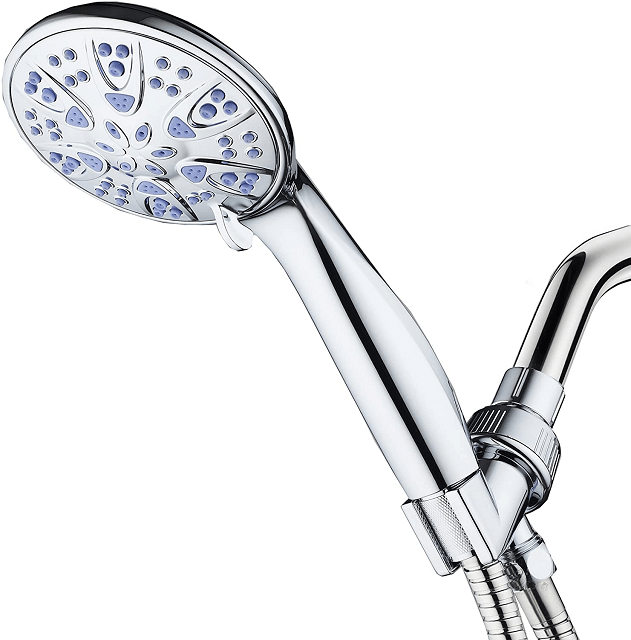 AquaDance Antimicrobial/Anti-Clog High-Pressure 6-setting Hand Shower
The AquaDance is a unique handheld unit that guards against the growth of mildew, mold, and bacteria.
Shower heads frequently build up bacteria over time[2], but the Microban Antimicrobial Technology prevents that from happening, providing you with cleaner water for your shower.
Additionally, the AquaDance provides a high-pressure water flow that prevents clogs, so you will always have a consistent water output.
And the AquaDance has six different water flow settings, perfect to meet anyone's shower preferences.
Highlights
Prevents bacteria, mold, and mildew growth
6 settings
3 color choices
RV Showerhead with the Best Pressure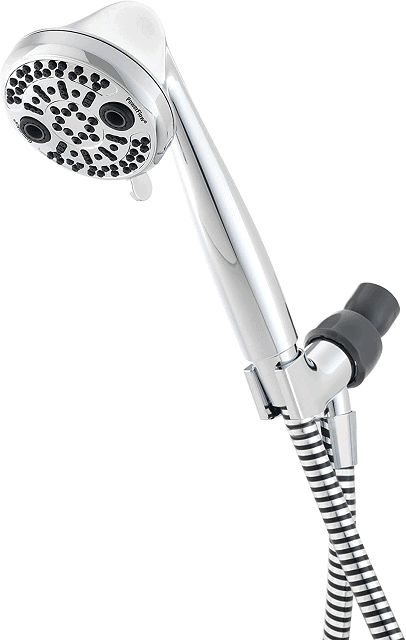 Oxygenics PowerFlow RV
The Oxygenics PowerFlow RV is an excellent, efficient option.
It features five different water flow settings offering different water pressures and coverage options.
The high-pressure flow is not dependent on the water pressure source and conserves overall water usage.
The sleek shower head design will give any shower an upgraded appearance, and it comes in four great colors, certain to match anyone's existing shower hardware.
And the best thing is that it's priced under $30!
Highlights
High-pressure low water usage
Reasonably priced
4 color options: Oiled Rubbed Bronze, White, Chrome, and Brushed Nickel
Best Low Flow Shower Head for RVs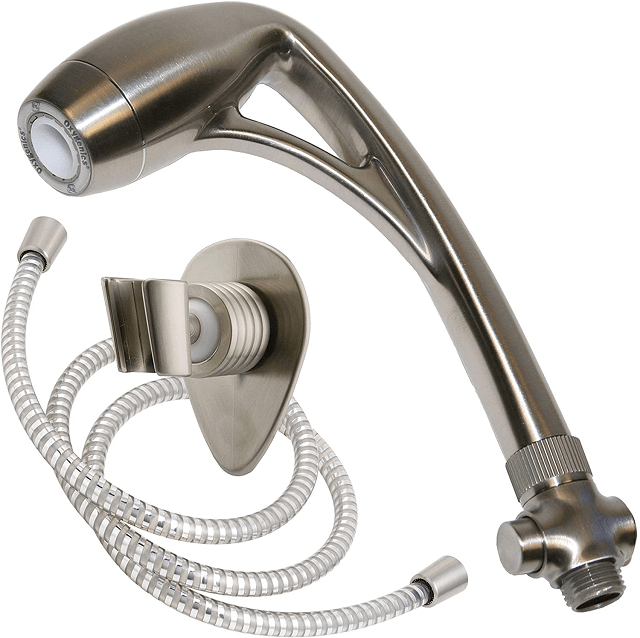 Oxygenics BodySpa RV
Oxygenics' BodySpa RV shower head increases overall water pressure without using more water from your tanks.
Additionally, this shower head is designed to widen the spray coverage, so you no longer need to huddle under the shower head.
The BodySpa also features a water flow button, allowing you to control the water stream easily.
And if that's not enough, the slim handled design will add to and update the overall aesthetics of your bathroom.
The BodySpa is equipped with a 60-inch hose, giving it the versatility of a handheld system.
Highlights
Available in 3 colors: Brushed Nickle, White, Chrome
Limited Lifetime Warranty
Maximizes your tank and existing water pressure performance
Best RV Shower Head With Hose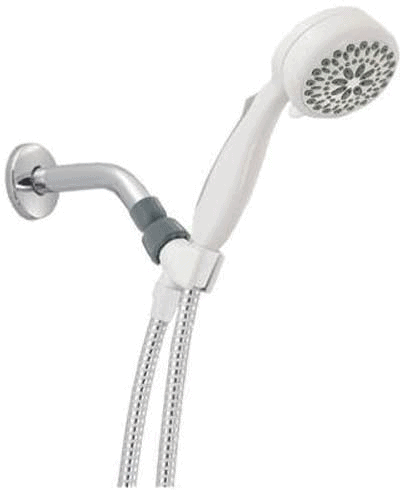 Delta 7-Setting Hand Shower
The Delta 7 Settings Hand Shower features a 72-inch tangle-free hose.
It also has seven different water flow options, including a massage and pause function. The Delta shower head has a robust water output, so you never need to be concerned about water pressure.
The Delta 7 designed to make cleaning the showerhead simple and easy with its Touch-Clean system, eliminating the need for scrubbing or harsh chemicals.
Plus, it comes in two different output choices: 2.0 GPM or 2.5 GPM (though it is best not to exceed 2.0).
Highlights
Two color options: Chrome, White
Lifetime Limited Warranty
Anti-clog system
Best RV Shower Head with a Shut Off Valve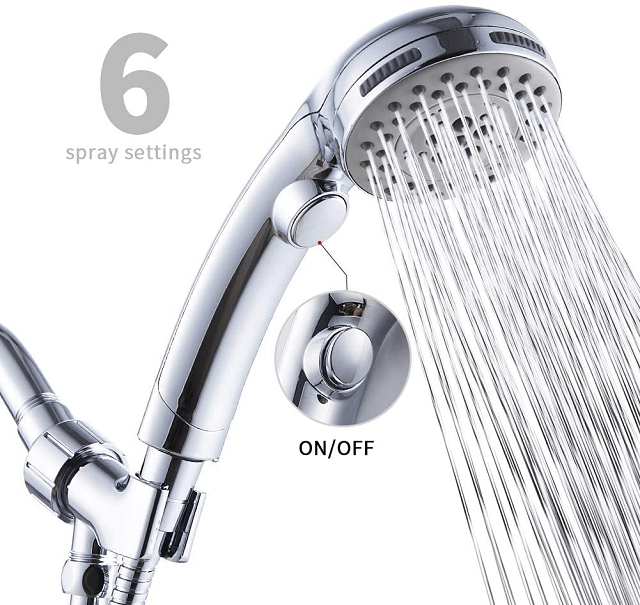 DOILIESE High-Pressure Shower Head
The DOILIESE has six different settings plus a shutoff valve function.
The various water settings include a fine mist that is powerful and offers good spray coverage, rain for a softer feel, or massage to help loosen tight muscles.
The DOILIESE system comes with an angle-adjustable mounting bracket making the hands-free option even better.
The handle of this shower head is ergonomically designed to allow for a comfortable grip.
The one-touch button system, located on the handle, makes turning the water on quick and efficient, reducing your water usage.
Highlights
6 Settings
60-inch stainless steel hose
Angle adjustable mount
What to Look for in a Shower Head for Your RV
Much of the decision process when updating a showerhead depends on your personal preferences.
However, for use in an RV, there are a few things to look for to help make your RVing experience easier.
For example, if you opt for a showerhead that doesn't have a shutoff, pause, or trickle setting, you will go through water a lot faster. Higher water usage will result in you needing to fill and dump your tanks more frequently.
Below is a list of different features to consider when choosing a new shower head:
GPM (Gallons Per Minute) – This measures water usage. You do not want one that is greater than 2.0. This will aid in reducing water waste
Water flow settings – One of the benefits of an aftermarket shower head is that you can choose one with a broader spray, massage option, or whatever your shower preference happens to be
Color – The shower head is separate of the shower controls so if color coordination is a priority, be sure to get one that matches
Shutoff feature – If the showerhead does not have one then you will need to add one
Hose length and material – You will want one that is a comfortable length for you, and that is also durable
Anti-clog feature – This will help to avoid build-up from minerals in the water. It is best to find one that has an easy wipe down plate
Conclusion
After completing my research, I have decided to go with the Oxygenics PowerFlow RV.
I chose this one for several reasons.
Though it is not specific to just this model, I like the higher water pressure without the worry of using excess water. Additionally, I like the five different settings, especially the broader spray.
Also, and though this may sound silly, I like the appearance of the PowerFlow. It looks high end without having the expensive price tag.
Finally, it is one of the few I have been able to find that comes in oiled rubbed bronze, which matches the rest of the hardware in my bathroom.
FAQs
Can You Use a Regular Shower Head in an RV?
Yes!

But you need to add a water flow shut off valve, which is very economical and a breeze to install.
How Do I Replace My RV Shower Head?
Remove and replace the mounting hardware. You may need to seal up any old holes with silicone to avoid water getting trapped behind the wall. 

Next, unscrew the old shower head hose and attach the new unit. Be sure to use the rubber washers included in the kit.

The new unit should be hand-tightened in place. Do not wrench on it or you may crack the base. 
What Are Good RV Shower Head Brands?
Oxygenics, Niagara, Ecocamel, and AquaDance are all good shower head brands.
Do RV Shower Heads Save Water?
Most are designed to minimize water waste.
Some showerheads are more efficient than others at reducing water usage, such as the
Niagara Conservation Earth Spa
.
Handheld Showerheads vs. Regular Shower Heads: Which Is Better for You?
It is a matter of preference; however, the shower stalls in an RV are often much smaller than your shower at home.

Because of this and the need for conserving water, handheld showerheads are often more convenient to use.
What Does the GPM or PSI of an RV Shower Head Mean?
PSI means Pounds per Square Inch, and GPM stands for Gallons Per Minute
[3]
.
Both GPM and PSI measure the performance of showerheads. These measurements indicate the water flow and the quantity passing through the shower head.
Should I Buy a High-Pressure RV Shower Head or Regular?
A high-pressure RV shower head will likely fit your shower stall better and will make showering a lot easier if you have a handheld shower head.
Resources