This post may contain affiliate links. These links cost you nothing and allow us to keep rolling along and bringing you more helpful content.
One of my favorite things is RVing with pets.
Our family is made up of four dogs and a cat, and they all come along on our RV adventures.
Though RVing with pets is an amazing and fun experience, it does require a bit more work to ensure your trip goes smoothly.
Whether you are a full-time RVer or are new to RV scene there are several helpful tips for RVing with pets to keep your fur babies happy and healthy when traveling.
Tips for successful RVing with your pets
Things to Bring
Being prepared is key to ensuring a fun and successful RV trip, and half of your preparation is knowing what to bring.
There are the essentials, and there are the things that make life easier.
I've included both.
Stuff for Inside the RV
Travel Safe Crate or Seat Belt
To ensure the safety of your pet, it is best to keep them contained in a crate or seat belted in. Regardless of whether you are the best driver and your pets are calm in the RV.
Accidents happen, and your pets could be severely injured or worse, especially during a rollover.
Plus, if you travel with a cat bringing a crate along in case of an emergency is best.
For example, if your RV breaks down and now you need to rent a car and stay in a hotel, it is safest and most convenient to transport them in a carrier.
Motion Sickness Medicine
Some animals get motion sickness[1], especially on longer trips, so picking up some supplements such as Ark Naturals Happy Traveler Chews for your pets beforehand can make your RV trip easier.
Pet Gates
Also, when we first brought our dogs RVing, we were concerned they would dash out the door unexpectedly.
So we put up a pet gate to control their comings and goings.
It worked so well we still use it to keep them safe.

Water and Food Bowls
Collapsible and travel style options, such as the SLSON Collapsible Dog Bowls, are a great way to save space and are an absolute must-have when out walking or hiking, especially on warm days.
The PetAmi Dog Travel Bag is a deluxe tote with storage for food, toys, treats, and collapsible bowls.
Litterbox Set Up
We use the space under our bed for our cat, Lily.
Her water and food bowls, plus litter box, are securely tucked underneath with waterproof flooring.
We have created dividers for her, so it's more like a tiny apartment for her.
We use a PetSafe Travel Litterbox; it is slightly smaller than the standard size one.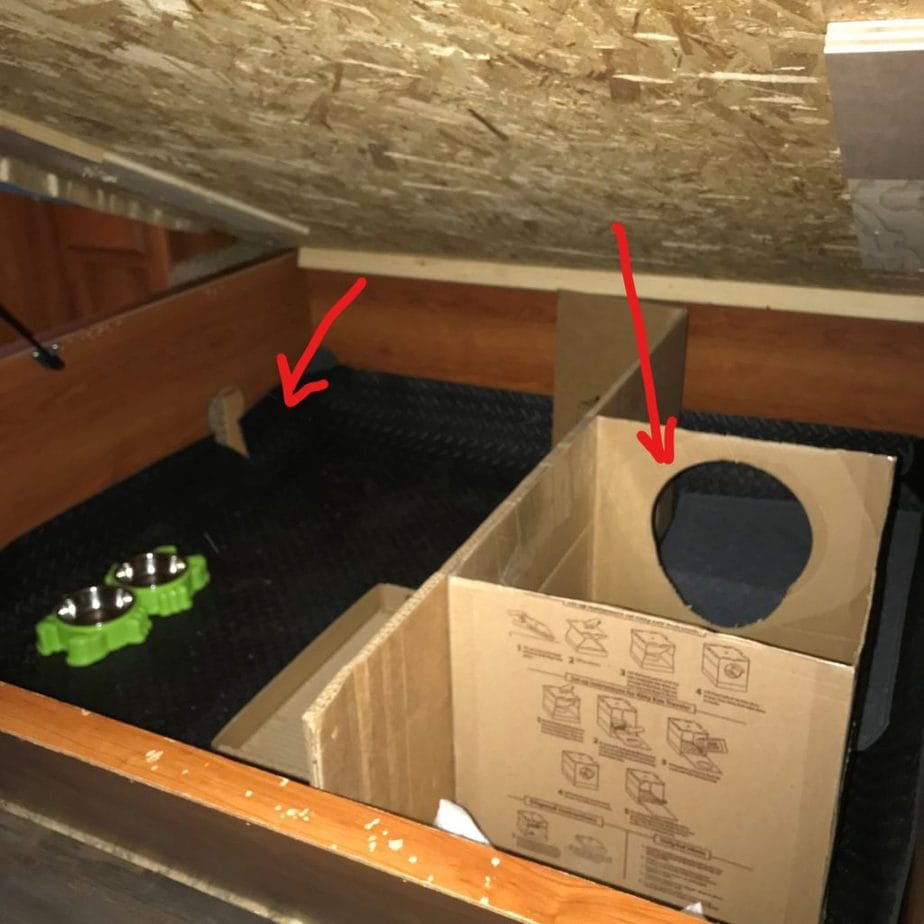 Toy Basket
This might sound like an odd thing to bring, but you don't want toys and bones rolling around on the floor as you're rolling down the highway; it's just not safe.
Plus, toys can get caught under the lip of the slide-out and scratch your flooring. It happened to us when one of the dog's Nyla-Bones got stuck under the wardrobe.
I have tried a variety of baskets, but the small and soft-sided ones work best. I use Sorbus Storage Baskets.
Toys
Dogs and cats can get bored on long drives, so plan to bring along some toys to keep them occupied, like treat balls or puzzle toys.
Some good examples are the Everlasting Starmark and PetSafe Fun Kitty Egg.
I liked what I read about the YINXUE Pet Snuffle Mat so much I ordered it for our next camping trip.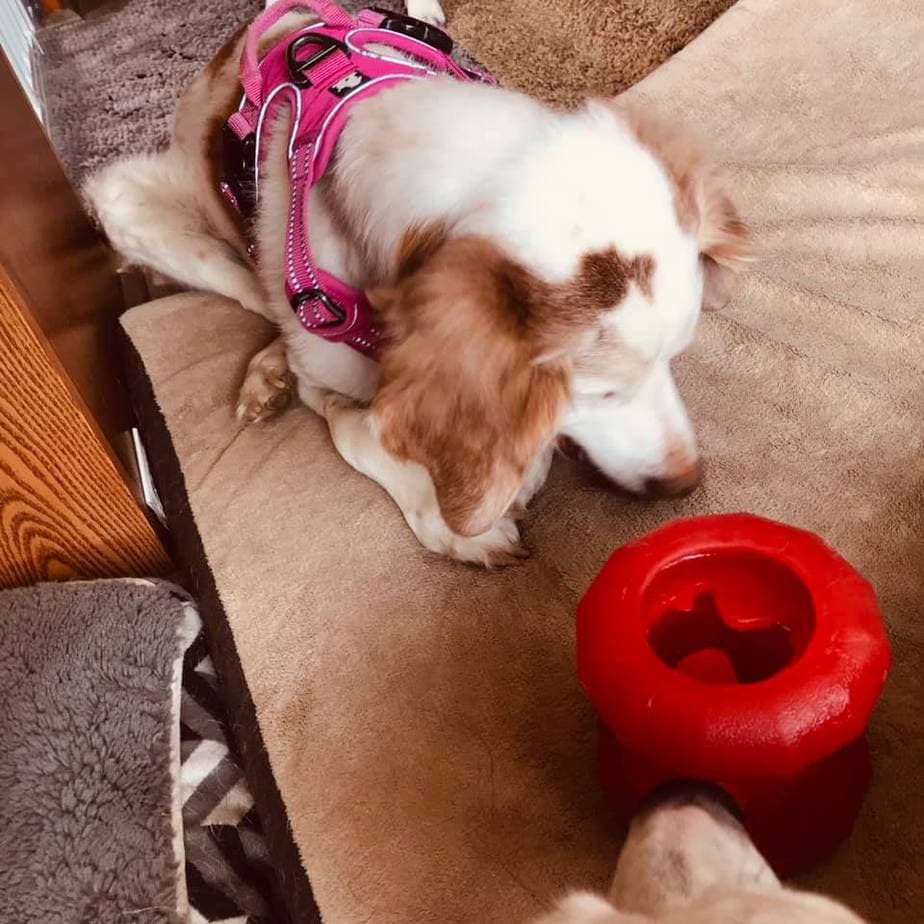 What You Need in Case of Emergency
List of Vet Hospitals
When traveling far from home, it is best to find the local and emergency vet clinics in the area you are staying before leaving.
Not all campgrounds have cell reception, so if you have a print out of the local places in the event of an emergency, you will know where to go.
Unfortunately, we have had to go to the vet on three different occasions when RVing, and two of those times we didn't have cell reception.
Thankfully I had put together a list of vet clinics in the area, so we only needed to put the address in our GPS to get there.
First Aid Kit
Though we share a lot of the same first aid supplies, pets can't easily put on a band-aid as a human, so be sure to bring things like paw balm, vet wrap, and natural remedies such as coconut oil, and honey.
Also, throw some Benadryl into your pet's first aid kit in case they get bit or stung by an insect.
Plus if you would prefer there are pet first aid kits available too, such as the one by Sun Sante.
Dog Boots
We have had multiple minor wounds on our dog's paws, and having boots to protect their feet after an injury or to prevent on has been an enormous help.
QUMY Dog Shoes are my favorite and are very durable.
Pawz Dog Boots are great too to cover injuries, plus they are waterproof.
Calming Supplements and Gear
Traveling can be stressful for some pets, so it is a good idea to bring along things to help keep them calm.
It is especially important to have these on hand if you have a dog who is fearful of loud noises or storms.
You may want to have your pet try the supplements or gear before leaving home to make sure that they work well and do not cause adverse side-effects.
I use Zesty Dental Calming Chews with CBD for Sophie, and they work great for mild anxiety.
NaturVet Quiet Moments is another product I've used for years and highly recommend. You can also get it for cats.
Especially important in the event you encounter less than favorable weather is a Thundershirt. Rain on the roof of an RV can get pretty loud and can cause some dogs to become anxious.
Anti-anxiety beds work so well for Sophie we have one for the house and for the RV.
Featured below with the toy basket is the MIXJOY Orthopedic Donut Cuddler. For the cat we use the Sugar Pet Shop Marshmallow Cat Bed.
Adaptil Travel Calming Spray is available for cats and dogs, in plug-in and spray formulas.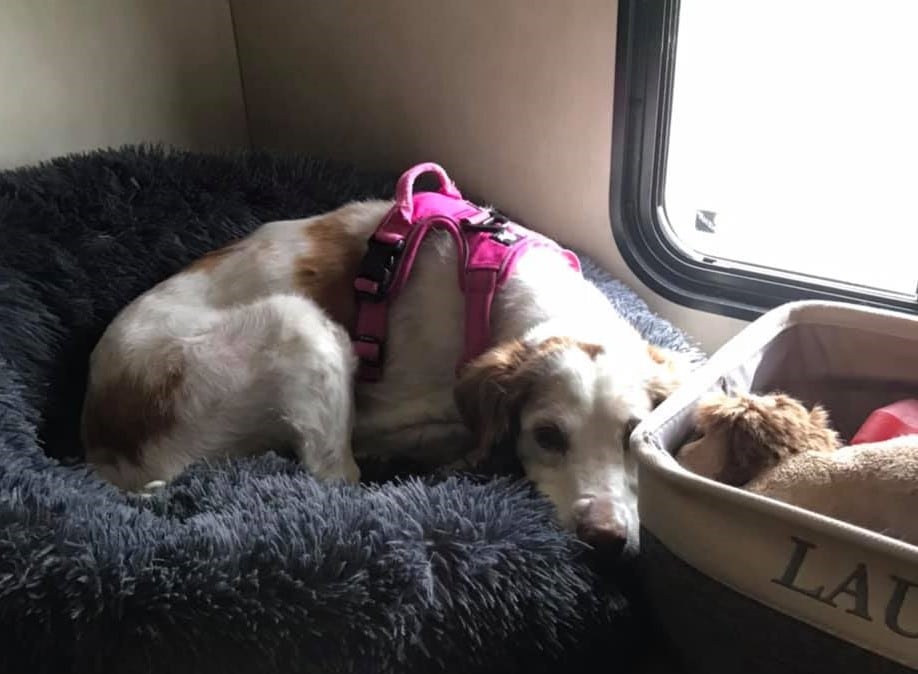 What You Need for the Campsite
Backpack
Perfect for hiking to hold water, snacks, and a first aid kit.
If your pup is up for it, there are some great backpacks for dogs too.
When our dogs were younger, they would carry some of their stuff too, it helped with training as well as burned more energy than just the average hike.
Outward Hound is my favorite. We have purchased a couple of these, and they hold up well to camping and are easy to wash up.
Dog Carrier Backpacks
I am seeing backpacks for carrying small dogs more and more, such as the PROPLUMS Dog Carrier Backpack, and they are an excellent solution for those of who you want to go for longer hikes and your dog or cat is too small, too young, or too old to keep up with you.
Plus, I saw a few cats enjoying the outdoors in a Henkelion Cat Backpack Carrier also!
Pet Safe Bug Repellent
Depending on where you are traveling, mosquitos and black flies can wreak havoc on any camping trip.
There are various pet-safe sprays and bug repellent bandanas made especially for pets.
Note: Even though you use a flea and tick preventative, most of those do not help deter other bothersome insects[2].
Here are what I use to protect my pets from pests: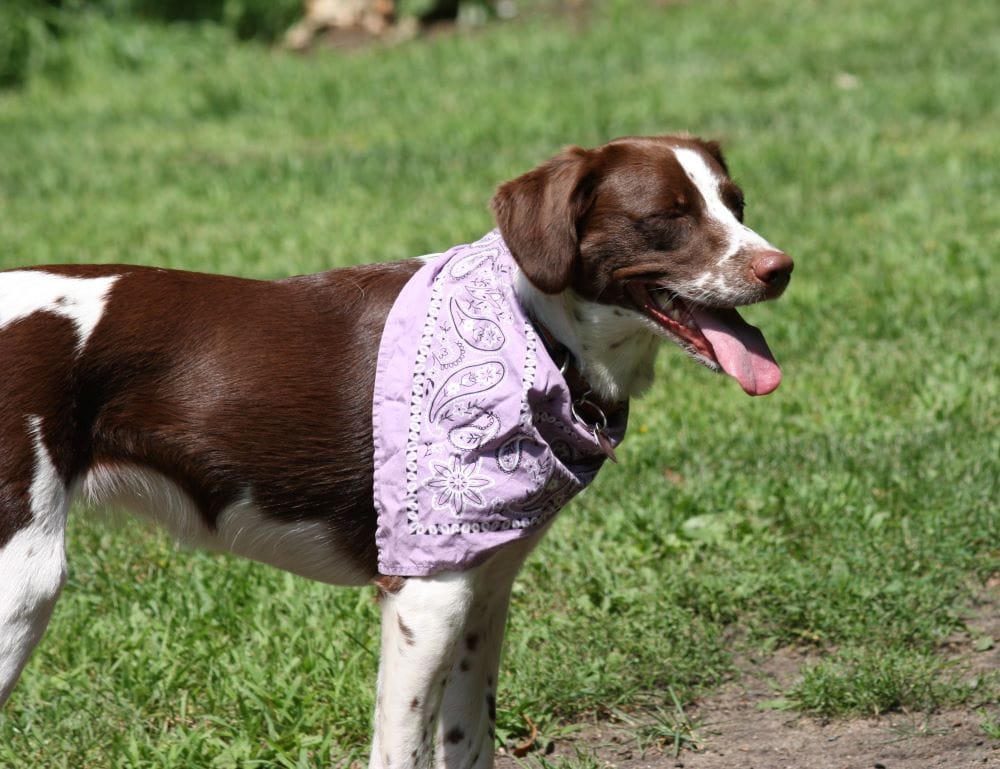 Pet Cots or Chairs
My dogs love to steal our camp chairs, but also, I like to keep the pups up off the ground to reduce bug bites, especially those from chiggers.
Additionally, three of our dogs have arthritis, so providing them with a comfortable place to chill after a hike helps to reduce stiffness.
Pet cots such as the Outrav Collapsible Cot or the are great for both cats and dogs. We also like the SUPERJARE Cot with Canopy.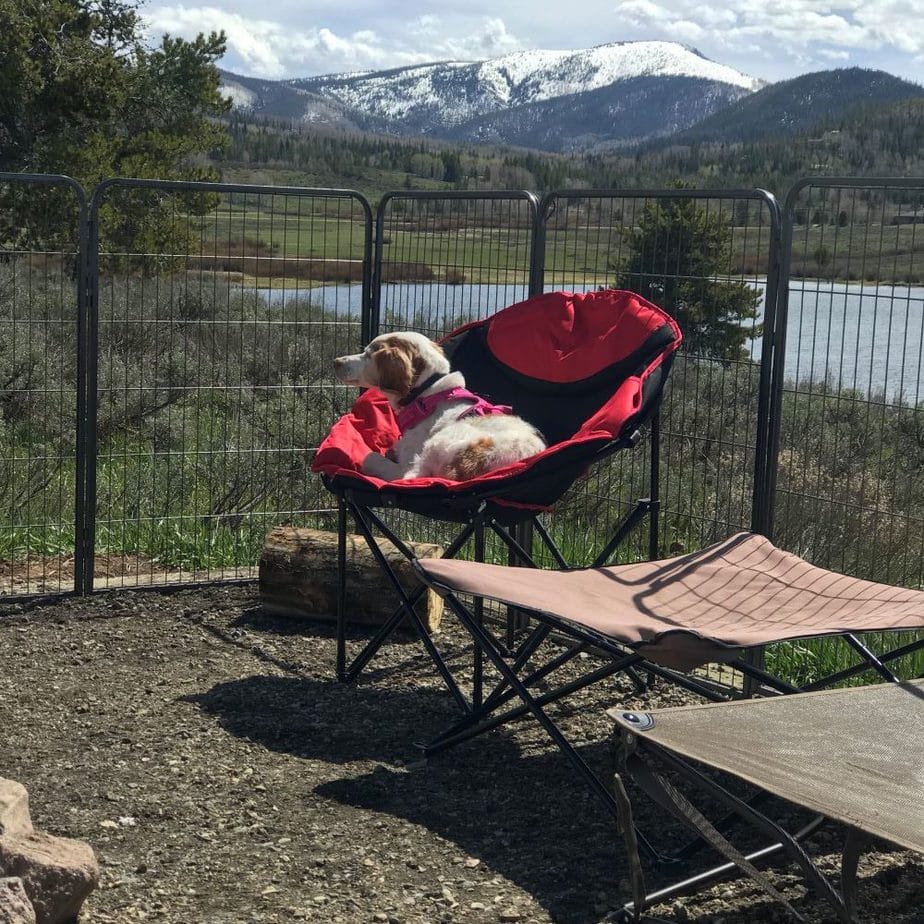 Life Vest
Spending time outdoors with our favorite four-legged companions may even lead to fun boating, canoeing, or kayaking adventures.
Even if you have a strong swimmer, it is always best to throw a vest on our fur babies; boating accidents happen, and a life vest can save your pet's life[3].
I prefer bright colored vests for safety such as the Outward Hound Dog Life Jackets.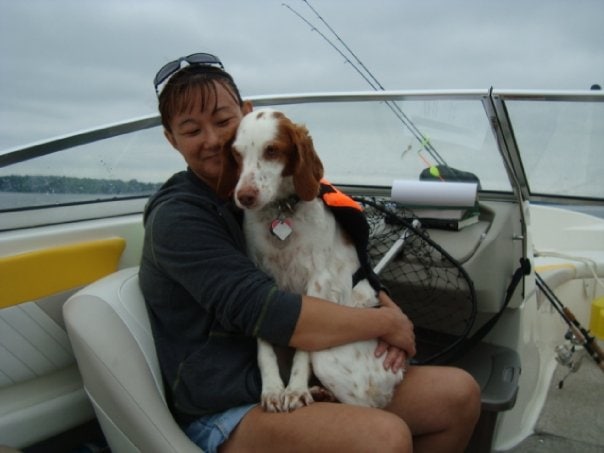 Tie Outs
Though you can always attach your pet's leash to a picnic table, it is helpful to use ties outs so you can set your pet up wherever you want.
These are not meant to leave your pup out when you're not around.
Tie outs are a great way to keep your pet contained, but without proper supervision they can be hazardous.
I like Intellileash's Intelli-Stayks because they have three different styles to optimize safety.
Gates
If I could only pick one optional item to bring camping for my dogs, it is our gates.
Because we camp places that there is a leash requirement and having multiple dogs, we found it was easiest to create our own travel yard with the BestPet Outdoor Dog Fence.
It is a game-changer!
And if you have a dog that barks when they see people passing by, you can always attach a tarp to the gate to block their line of sight.
Plus, it prevents off-leash dogs from coming into our campsite, which happens to us all the time, so its a win-win situation.
Since the gate comes in individual panels, you can change the shape and size to fit each campsite.
And the gates come in three different heights. Ours, seen in the photo below, are 40 inches:

A Few extra Tips
Here are a couple more tips for RVing with pets.
Heartworm, Flea, and Tick Preventative
Be sure your pets are current with their preventatives before you hit the road to help reduce the chances your pet will contract diseases such as heartworm or Lyme disease.
Don't Go Too Far the First Time
If it is the first time RVing with pets, you may want to consider camping somewhere close to home the first time to ensure everyone is comfortable.
You don't want to end up 1,000 miles from home with pets that are so stressed they have made themselves sick.
Conclusion
With proper planning, RVing with your pets can be one of life's greatest joys, since it is a perfect way to bond with your favorite four-legged companion.
Though this article is focused on dogs and cats, almost any pet can join you in the RV with the right preparation.
Even non-traditional pets make great RVing companions; you just need to be sure to plan ahead.
Resources