This post may contain affiliate links. These links cost you nothing and allow us to keep rolling along and bringing you more helpful content.
I love RVing! It is so fun and versatile.
We use our RV for weekend camping, to visit friends and family, and long cross-country vacations.
However, we didn't start as RV owners. For more than four years, we tried out different RV options.
We originally began our camping adventures in a tent, but as our family grew camping in a tent became more difficult.
My husband and I travel with our four dogs, and cat, so tent camping is entirely out of the question.
As our family grew, we transitioned from a tent to a pop-up camper and continued to transition to new RVs until finally decided on a Class A.
However, long before we owned an RV, we rented. Owning an RV is great, but it's costly.
For those of us who only go once or twice a year, renting an RV is the best option.
We primarily use RVShare to book our rentals. If you're interested, take a look at our RVShare review!
How Much Does It Cost to Rent an RV for a Week
The expense of renting an RV for a week depends on the type of RV you are renting and how far you plan to travel.
The cost of renting an RV is not solely based on how many nights you are renting it.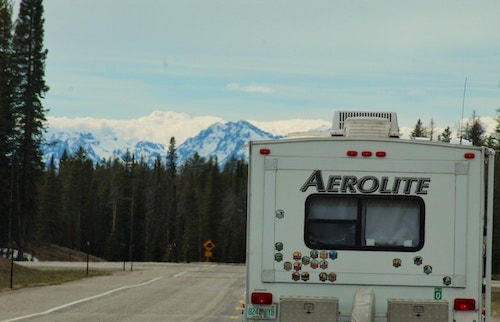 The price is also dependent on mileage, propane use, and any additional add on rental items like grills, linens, and kitchen kits.
Often people associate renting an RV for camping as an inexpensive form of travel.
Unfortunately, that is not always the case, though when compared to a two-week trip to Europe, could likely be the less expensive option.
As I mentioned, the cost of renting an RV goes beyond the nightly fees, so here is a breakdown of charges you can expect when renting:
Nightly rental cost: $189-$212 for a motorhome
Mileage: $0.35-$0.95 – Sometimes daily mileage allowances are given, but not always
Propane use: $3-$5+ per hour – Usually there is a daily allowance of 3-4 hours
Add-Ons: $20 – $110+ This includes things like cleaning fees, linens, kitchen supplies, drop off service, TP, and bike rack rental.
Security deposit: $500 – $1500+
Reservation deposit: (different than security deposit) $300+
The nightly charges do change depending on where you rent as well as what time of year you are renting.
And don't forget about campground fees when making your budget!
How Much Does It Cost to Rent an RV for a Month
If you are looking to take a long road trip, sometimes there are price breaks when you rent an RV for a month.
To rent a motorhome for a month the price range is $3944-$5180.
Camper trailers, pop ups, and camper vans are generally less expensive.
Because so much depends on the style and size of RV, I have broken down the estimated prices below.
Renting a Class A Motorhome
A Class A is a motorhome. It sits the highest of all of the RVs and has a flat front.
Class A RVs have most of the amenities you find at home, including such things like wardrobes, small pantries, and half baths.
The larger ones may have two bathrooms and washer and dryers onboard.
Typical Cost Per Night: $166.67 – $300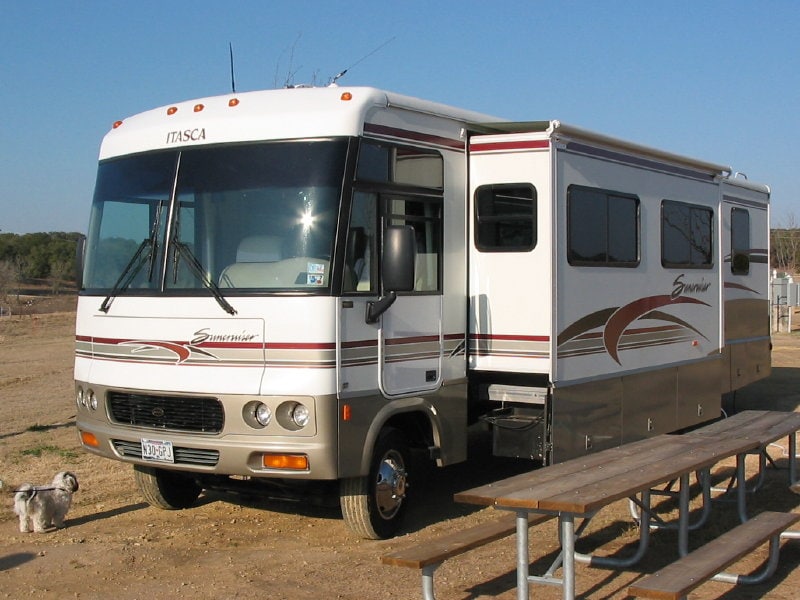 What to Expect From a Class A Motorhome
The average length is 35 feet long
Average MPG 6-8
Average Occupancy 5+
Full indoor kitchen – possible outdoor kitchen area
½ Bath – possible multiple bathrooms
Full wardrobe in most
Expansive storage both inside and out
Usually 2+ slide outs
TV
Possible Laundry
Usually 2 AC Units
Usually Leveling Jacks
Outside shower
Generator
Because of its enormous size, the driver must be comfortable maneuvering such a grand vehicle.
The way an RV of this size turns, stops, and backs up, is very different than the average car.
Best Choice For:
4+ People
Long road trips
Those requiring more space
This is not a good option to drive in higher traffic areas
Unless you are towing a car behind this is not a good option for sightseeing in cities and towns
The spaciousness of the motorhome is excellent for larger groups of people on long road trips.
The motorhome has several seatbelts so people can spread out safely while en route to their destination.
Renting a Class B Motorhome
A class B motorhome is the smallest of the motorhomes and is often referred to as a camper van.
Essentially it is a mini motorhome, some but not all are fully equipped with small kitchens and bathrooms.
Typical Cost Per Night: $150 – $350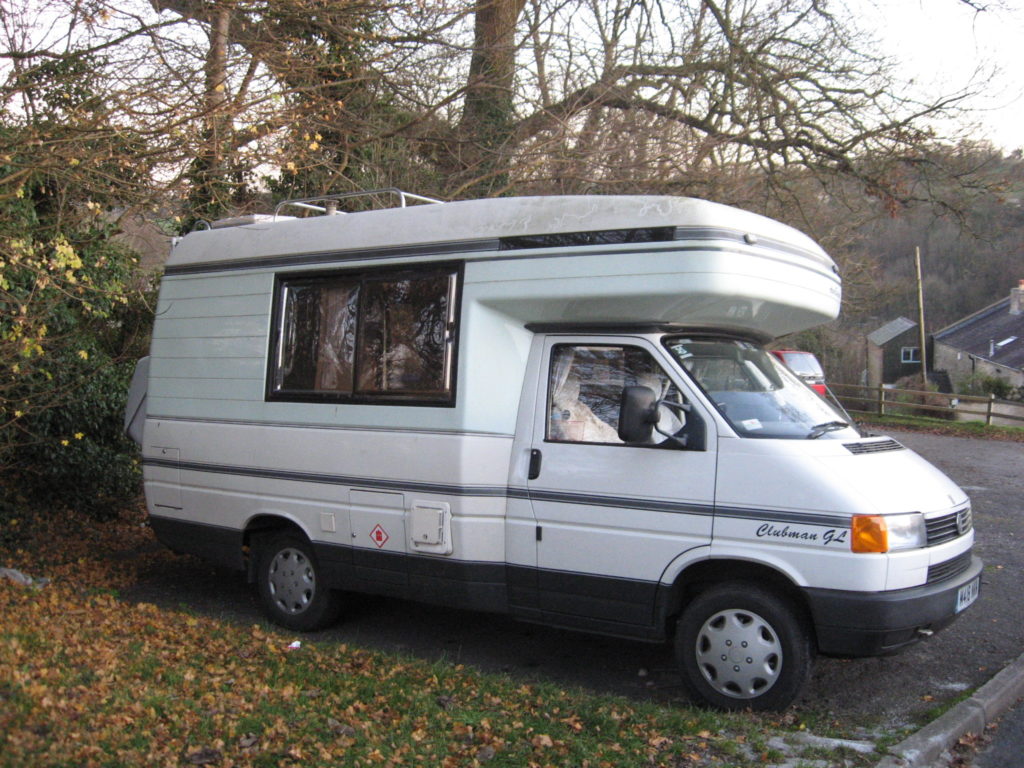 What to Expect From a Class B Motorhome
The average length is 24 feet long
Average MPG 15 – 20
Average Occupancy 2 (though some can fit up to 6 people)
Small kitchenette
Combined toilet and shower stall
Convertible bed
Pop Up Loft Bed area
The compact nature of the Class B makes it a comfortable choice for drivers who are uncomfortable with the larger motorhomes.
Though these motorhomes are small in comparison to their counterparts, they still pack a ton of amenities. Plus, since it is more compact setting up camp is a breeze.
Also, you will have a better chance finding a Class B for rent through private rental either through Outdoorsy, RV Share, or directly from the owner.
Best Choice For:
1-4 People
Any distance road trips – Though longer road trips might be best with fewer occupants
Those comfortable in smaller spaces
Those who are looking to be more mobile
The Class B is the best choice for seeing the country by yourself, as a couple, or even for a small family.
Additionally, unlike the larger motorhomes, this RV will be able to navigate most city streets, making sightseeing more enjoyable.
The Class B is the most fuel-efficient option of the three motorhome options.
Renting a Class C Motorhome
The Class C is in between a Class A and a Class B. The design of cab and chassis of a Class C is built upon a modified truck base.
The Class C sits about the same height as that of a pickup truck and usually has three doors.
Typical Cost Per Night: $145 – $300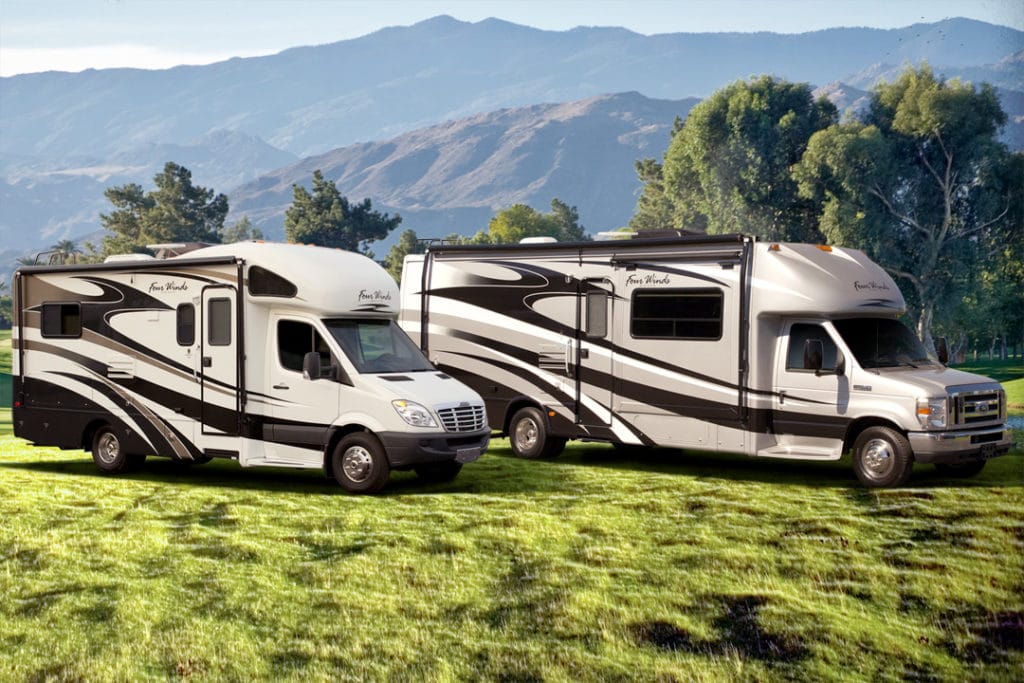 What to Expect From a Class C Motorhome
The average length is 27 feet long
Average MPG 7 – 10
Average Occupancy 4+
Full Kitchen with stove, fridge, and oven
½ Bathroom
Dinette
Master bedroom
Storage space
Generator
TV
The Class C comes in a large variety of sizes, and some of them can be as large as a class A.
If you decide to rent a large Class C it is important that the driver be confident handling such a long vehicle.
Best Choice For:
4+ People
Long road trips
Those requiring more space
Depending on what size of Class C you rent will determine how easy you can maneuver in high traffic areas
With the versatility in sizes, you can you undoubtedly pick the motorhome that is the right size for you.
Having more space while on a long drive can benefit families with kids since they can safely be seated at the dinette, allowing them more space to keep themselves entertained.
Renting a Fifth Wheel
A fifth wheel camper is a tow-behind style camper. The camper attaches to the bed of the truck instead of a hitch.
These campers are usually relatively large and require a truck with enough towing capacity to haul it.
Fifth wheel campers are generally quite spacious and often have the same luxuries of home.
Typical Cost Per Night – $125 – $250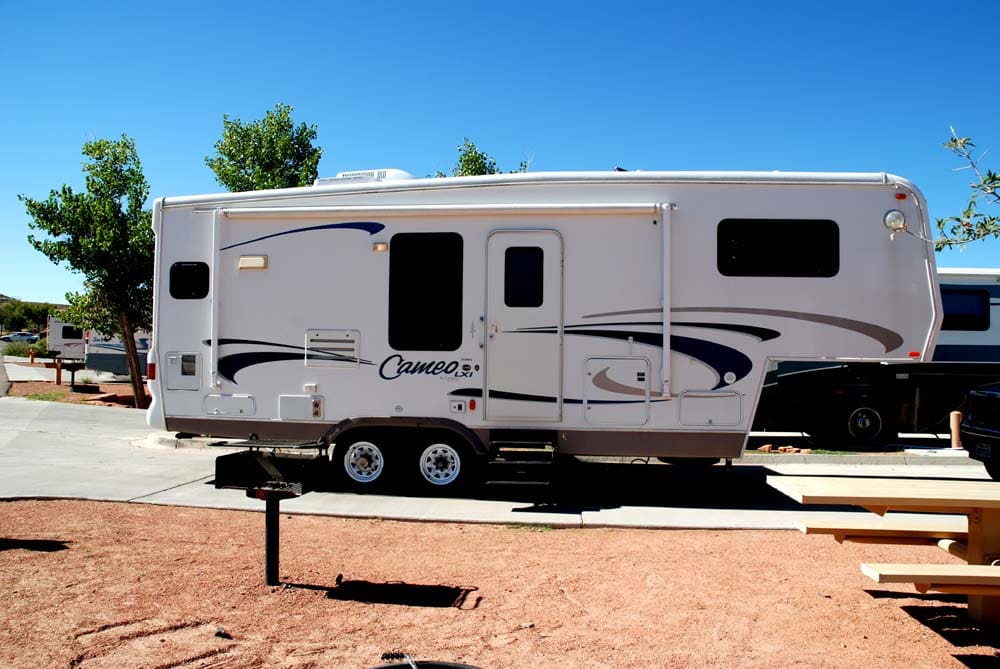 What to Expect From a Fifth Wheel
The average length is 32+ feet long
Average Occupancy 5+
Full Kitchen with stove, fridge, and oven
½ Bathroom
Dinette
Large seating area
Master bedroom
Storage space
Generator
TV
You will have a better chance finding a Fifth Wheel for rent through private rental either through Outdoorsy, RV Share, or directly from the owner.
Best Choice For:
4+ People
Long road trips
Those requiring more space
Because you can detach your truck from the trailer it makes it easier to go sightseeing
Although the camper can accommodate several people, there may be a need to take multiple vehicles depending on your vehicle's occupancy.
Renting a Travel Trailer
A travel trailer can be much like a fifth wheel except for how it attaches. Travel trailers connect using a trailer hitch, so it is more versatile than the fifth wheel.
Also, travel trailers come in the widest variety of shapes and sizes of any of the RVs.
Some are the shape of a teardrop and sleeps two, cozily and others that are the shape of a submarine and 35+ feet long that can sleep six or more.
Typical Cost Per Night – $90 – $125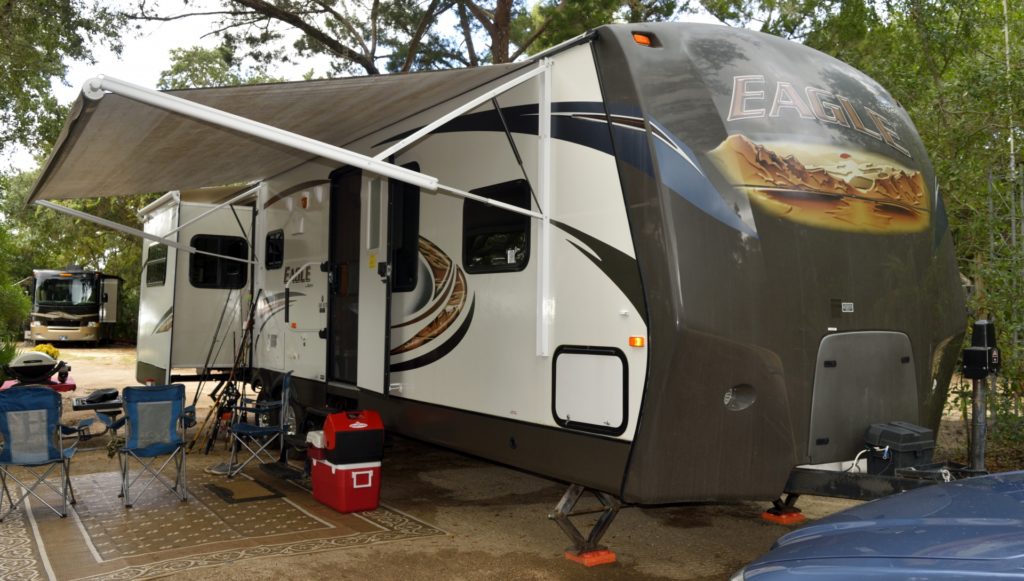 What to Expect From a Travel Trailer
There is no real average length they can range from 10 feet – 35+ feet
Average Occupancy 1 – 8+
Depending on the size and style you may have all of the amenities of home or you may have a sleeping area and small kitchen.
Unfortunately, because of the vast range of options with travel trailers, there is no base model.
They can be completely bare-bones, providing minimal storage and a dry place to sleep for one, or it can be a luxurious camper with multiple bathrooms and a full kitchen.
You will have a better chance of finding a Travel Trailer for rent through private rental either through Outdoorsy, RV Share, or directly from the owner.
Best Choice For:
Due to the versatility of this RV it is a great fit for the majority of people.
Larger trailers can accommodate 6+ people
Smaller trailers are more fuel-efficient
Larger campers have all the amenities of home
Smaller trailers provide a more rustic camping experience
Smaller trailers have a greater variety of vehicles that can tow them
All travel trailers can be parked at the campground and detached from the vehicle, allowing for a greater opportunity to do more sightseeing
Renting a Pop-Up Camper
Pop Up campers are the cross between a camper and a tent. Most vehicles with towing ability can tow a pop up due to it being lighter weight.
Typical Cost Per Night – $50 – $85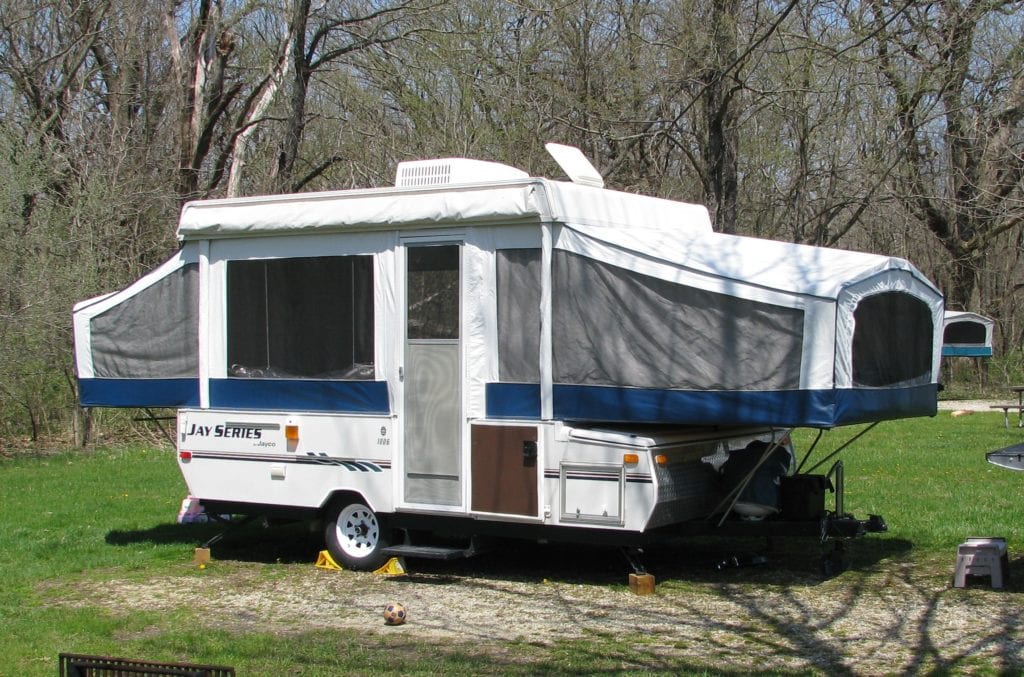 What to Expect from a Pop Up Camper
Light weight
Average capacity 4
Because part of the RV is made up of tent material it isn't the best for bad weather or colder seasons
Dinette
Small kitchen area
Takes a little more time to set up
You will have a better chance finding a Pop Up Camper to rent through private rental either through Outdoorsy, RV Share, or directly from the owner.
Best Choice For:
This is a great camper for family camping trips. Because Pop ups are part tent it allows for a more rustic camping experience.
4 People
Long road trips – if additional storage is available in the vehicle
Those comfortable with towing the camper behind
Great step up from tent camping
Factors to Consider When Renting an RV
There are several factors to consider when choosing the right RV to rent.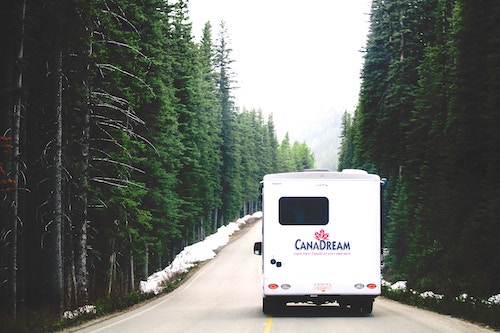 RV Size
Cost
Fuel Efficiency
Are you planning on towing a vehicle or boat?
Are you bringing things like bicycles or kayaks that require special mounting equipment?
Trailer hook up
Route – Not all roads are made for RV travel. Some of the roads going through the mountains can be daunting and some dirt roads may be difficult to navigate in an RV.
Mobility – If you plan to do a lot of sightseeing having only a large motorhome can impact where you can go
MPH – This varies greatly for tow behind campers
Occupancy – Consider the number of people and age
On board generator if needed – Not all campsites have electric hookups, if electricity is needed a generator is helpful to have
Trip Distance – For longer trips, choose a RV that will provide optimal comfort
Comfort Level – Driving a motorhome or pulling a camper isn't the same as driving your personal vehicle, so you must choose an RV you are confident driving.
Budget – Beyond the cost of the RV rental, keep in mind you still have to pay for gas, food, campsites, etc.
Also, consider who is going on your road trip.
If its two adults and two small children, the bed sizes don't need to be huge, so the dinette and sofa bed will easily fit smaller bodies.
But if it's a group of adults looking for an RV, full-size bed options would be best.
How to Choose an RV to Rent
The most important thing to do when renting an RV is to shop around (see more tips for renting an RV).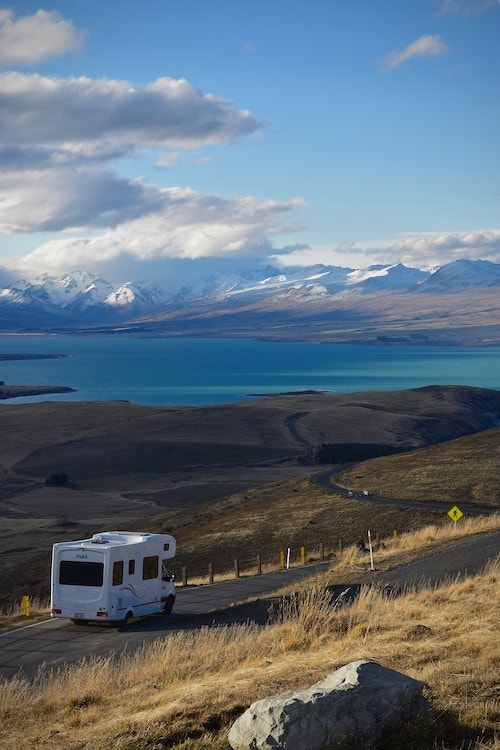 Figure out what you must have, such as a full kitchen, specific sleeping arrangements, and so on.
By creating a list of features you "must have" will help narrow down the selection.
Also, most rentals come with roadside assistance, this is a must.
Additionally, you need to choose an RV all drivers are comfortable driving.
Final Thoughts
Renting an RV is an amazing and fun adventure.
Taking an RV for a vacation, you will be able to see and enjoy so much more than if you flew somewhere.
Also, if you enjoy camping out in nature but don't love sleeping in a tent, this is an excellent way to enjoy camping and get a good night's sleep.
I strongly recommend when renting an RV to put together a budget and plan.
Nothing ruins a trip like running out of funds.
Though renting an RV can be costly, there are plenty of options available that will likely fit most budgets.