This post may contain affiliate links. These links cost you nothing and allow us to keep rolling along and bringing you more helpful content.
When my husband I were planning our first RV trip, the first thing I did was research RV parks.
I was surprised by the number of parks that I found as well as how much they varied in both price and amenities, for example, some were pretty bare-bones, where others were luxury parks with spas, and some had age restrictions.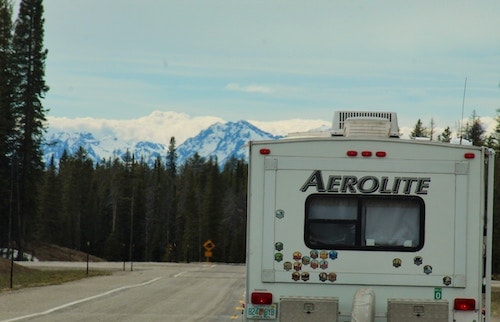 The prices ranged from as low $24 per night up to $100+ per night.
Because I am a planner, I wanted to make sure that we had reservations for all of the stops in advance.
As I researched different parks, I discovered many of them had pet restrictions and pet fees. Since we travel with our pets, we needed to find a pet-friendly affordable park.
Although RV park stays aren't the most significant expense when traveling, the cost still should be factored in your vacation budget.
15 Great Campsites and their Prices
The prices listed below are based on pricing found in 2019, prices are all subject to change, but this is a useful guide on what you can expect to see.
The majority of the parks listed below offer discounts for various memberships or affiliations such as AARP, Good Sam, and Military.
Willow Wind RV Park (Hurricane, UT) – $45-$55 Prices vary per site depending on if it is a pull-thru or amenities like satellite hookup. https://www.willowwindrvpark.com/
Yellowstone Holiday Campground and Marina (West Yellowstone, MT) – $60-$65 Price depends on the proximity to the lake. http://www.yellowstoneholiday.com/
Santa Fe Skies RV Park (Santa Fe, NM) – $55-$65 Price varies depending on if the site is a pull-thru or a back in. Also, the prices are increasing March of 2020. http://www.santafeskiesrvpark.com/rates
The Buffalo House (Duluth, MN) – $45-$51 Prices vary depending on the hookups at the site. https://www.buffalohouseduluth.com/
Panama City Beach RV Resort (Panama City, FL) – $75-$94 Prices change depending on season and site type. This is a resort RV park, so amenities included are above average. https://panamacityrvresort.com/rates/
Smuggler's Den Campground (Southwest Harbor, ME) – $50-$75 Prices vary depending on the season, site type, and pad type (cement or gravel). http://www.smugglersdencampground.com/rates
Galveston Island RV Resort (Galveston, TX) – $43-$74 Prices are dependent on the season and site type. https://galvestonrv.com/
Happy Days (Apache Junction, AZ) – $34.05-$41.67 Prices vary on length of stay, monthly and yearly rates are also available. http://happydaysrvpark.com/
Ramona Oaks RV Park (Ramona, CA) – $50-$55 Prices are dependent on if you need a 30- or 50-amp hookup.
Sleepy Hollow (Wall, SD) – $37-$43 Prices vary depending on you hook up needs. https://www.sleepyhollowcampgroundsd.com/home.html
The Bluffs on Manistee Lake (Manistee, MI) – $35-$58 Prices are based on the season and site type. https://www.thebluffsonmanisteelake.com/
Sunset RV Park (Oswego, NY) – $40-$50 Prices vary depending on the time of the week and site type. http://sunsetrvpark.net/
Mountain Stream RV Park (Marion, NC) – $41-$60 Prices depend on the season, sites with decks, and proximity to the stream. https://www.mountainstreamrvpark.com/rates/
Lakeview Park (Balsam Lake, WI) – $25-$40 Prices vary based on the site hookup options. http://lakeviewparkinc.com/campground-rv-park-senior-park-polk-county-wi/
The Views RV Park (Dolores, CO) – $40-$50 Prices vary depending on site. https://www.theviewsrvpark.com/
What Influences Campsite Prices?
Campground Amenities
I think that the campground amenities impact the cost of the park more than any other factor. Amenities can range from basic hookups to pools, golf courses, and spas.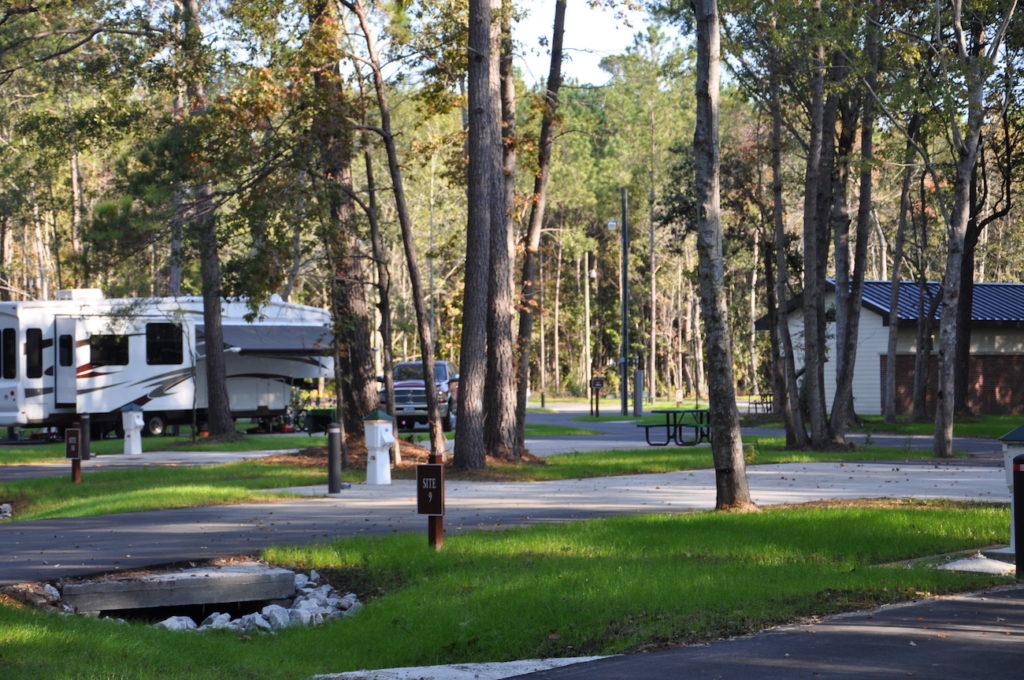 Depending on your vacation goals, you will want to seek amenities that best suit your needs.
For example, if you are traveling with dogs, some parks have onsite dog parks. Or if you are traveling with kids, some RV parks have activities for kids, much like a day camp.
Many of the parks will have onsite laundry, restaurants, and rentals. It all comes down to what you are looking to do while camping.
The Season
Much like hotels, campgrounds have peak and non-peak pricing.
If you are hoping to save money, try traveling before Memorial Day or after Labor Day. As an added benefit to it being slightly less expensive, the parks also tend to be on the quieter side too.
On multiple occasions, while camping in AZ and MT, we were one of only two campers in the whole campground, because we were traveling during the offseason.
I will say it makes for a more peaceful and relaxing camping experience.
Location is Everything
RV park pricing is similar to when buying a house, location matters. Some states are just more costly than others. Just like buying a home, you know you will pay more in CA than you will in OH.
Also, RV parks located on the ocean or another body of water will increase the price of the stay. RV parks near significant tourist attractions also impact the cost.
For example, for parks near the Grand Canyon or Yellowstone national park, you can expect to pay a bit more than other places.

Length of Stay
If you are planning an extended stay, say a couple of weeks to a couple of months, you should take the time to inquire about price breaks.
Many of the parks offer discounted pricing on long term site rentals.
Some RV parks allow you to park and leave your camper all season. The benefit of doing that is it you can treat more like a cabin.
You haul it up once to the campground then travel back and forth throughout the summer. It is an excellent way to save money on gas, since towing a trailer increases your gas consumption.
Al a Carte
RV parks are much like hotels and charge for additional people. Usually, two people are included in the initial fee, but other passengers will cost extra.
Also, if you plan on visitors, some parks will charge for visitors too.
Charging per guest might sound a bit odd, but most of these parks offer showers and other amenities that are impacted by the number of people using them.
In addition to paying more for more passengers and guests, you can also expect to pay a fee if you travel with pets. Some parks charge a flat fee per night whereas others charge per pet per night.
Finally, if you are towing additional vehicles, including boats, ATVs, and motorcycles, there is usually a fee for the extra parking space.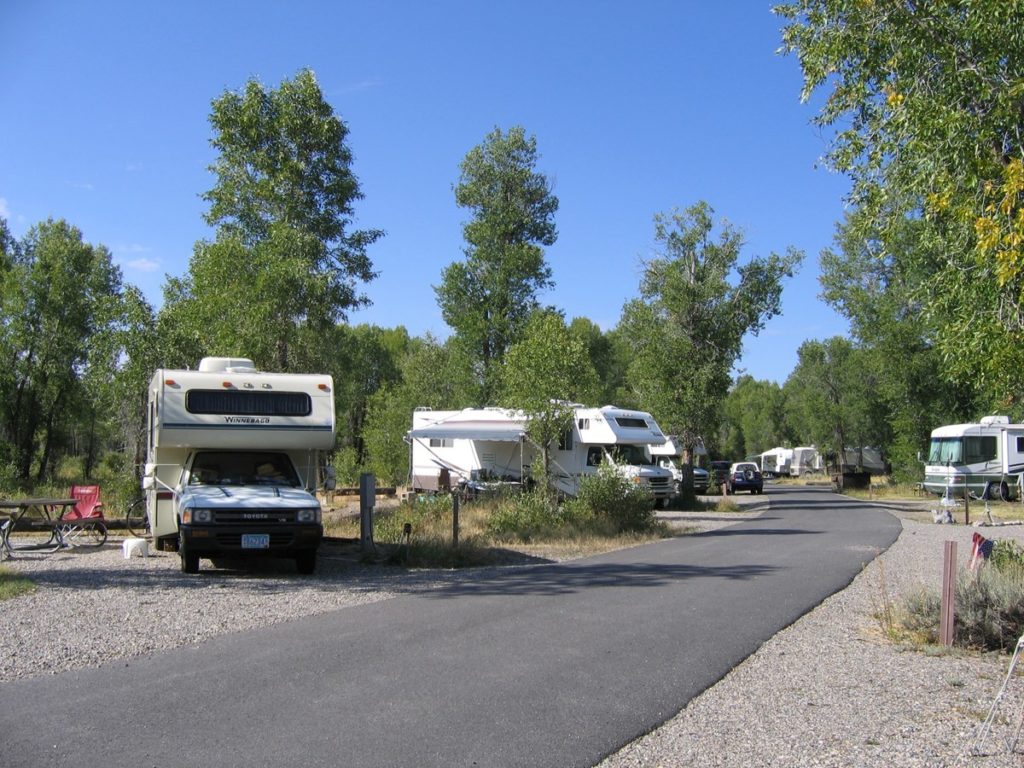 Easy Ways to Save Money when RV Camping
Join an RV Club – Some RV parks are for members only. Members of these parks pay an annual fee to camp at a lower rate. Some RV clubs own multiple parks, and you have access to use any of them at a discounted price.
Research – Parks vary from place to place and different seasons. If you take the time to do the digging, you will be able to find an RV park within your desired price range.
Good Sam Club – This is an annual membership that gives you discounts at:

Over 2,000 parks
Camping stores both retail and online
Gas from specific stations
Propane
Dump stations

Off-season – As I mentioned before, traveling off-season can save you money. Sometimes it's $10 off per night, but in some cases, it can almost be a 50% discount, so it pays to shop around.
Cook at Your Campsite – Although it is tempting to eat at the local or onsite restaurants, it will save money to do the cooking yourself. Cooking in an RV is as easy as cooking at home.
Avoid Rush Hour – Sitting in traffic burns through fuel; however, if you avoid high traffic times, you can save money on gas.
Ensure Your Tires Are Properly Inflated – As silly at that may sound, proper air pressure in your tires can positively impact your gas mileage. [1]
Final Thoughts
What I believe it all comes down to is what you want out of the RV campground experience. If it is merely a place to park and plugin, then the lower-cost options would likely work best.
However, if you are seeking a luxury stay with high-end amenities like spas, lounges, and golf courses, those RV parks are also an option.
RV parks are often one of those things in life that you get what you pay for.
Thankfully there's a large variety of campgrounds to choose from all over the US, so it won't be much of a challenge to find the park that's right for you.
Resources