This post may contain affiliate links. These links cost you nothing and allow us to keep rolling along and bringing you more helpful content.
Outdoorsy review quick take-away: They are a top-notch RV rental company for both those who own an RV and for those looking to rent one. You can learn more here.
The Outdoorsy website is easy to navigate, and their dedication to customer service is unmatched.
Recently I was discussing RV rentals with my sister-in-law, she and the family are looking to take a road trip out west, and wants to experience it behind the wheel of an RV.
Knowing how much we love RVing, she inquired if I had any recommendations on rental companies.
I didn't even hesitate when I told her Outdoorsy was the best place to find an RV rental.
I told her my personal Outdoorsy review, and it wasn't long before she agreed that it sounded like exactly what she was looking for in an RV rental company.
And Reader, if you are wondering why we didn't lend them our RV, its because we have a cat that travels with us and my sister-in-law is allergic, and also because we are usually using it on the weekends.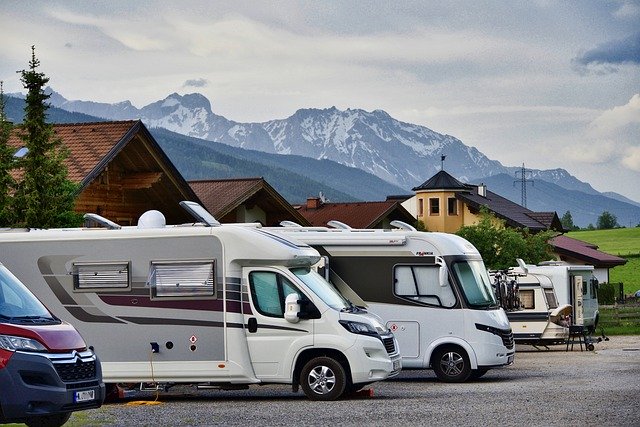 About Outdoorsy
Outdoorsy is an RV rental marketplace that brings owners and renters together. They help make money for owners and help create memories for renters.
The idea behind Outdoorsy started in 2014 when Jen and Jeff opted to trade in fluorescents lights for open skies[1].
Though when they decided on a career change, they didn't know what direction they were heading, what Jen and Jeff did know was that it had to include "the outdoors and authentic experiences."
Jen, Jeff, and their fellow co-founders kicked around various ideas until they decided on focusing their business on making it easier for people to enjoy outdoor travel and adventure, and from there, Outdoorsy got its start.
After finalizing their business idea, Jen and Jeff bought an Airstream and a truck and hit the road on their new journey.
While doing their travel research, they spent hours calling over 1000 RV owners they found on Craigslist.
Plus, while touring the country, they approached an endless number of RV owners and enthusiasts all to gain valuable knowledge about the RV community to get their company started.
After they finished their on the road research, they were ready to take the next step: programming the Outdoorsy website.
In 2015, the Outdoorsy site went live, and Outdoorsy got its first customer that same day. From that day forward, Outdoorsy has successfully been getting people on the road to enjoy outdoor travel.
Since the start of their website, the Outdoorsy community has grown to more than 15,000 RV owners, so its almost impossible not to find the perfect RV to rent.
And in only five years later, Outdoorsy has become the largest RV rental marketplace in the world.
✔
Pros
4.9 Star Customer Rating with the Better Business Bureau
Liberty Mutual Insurance coverage up to $1 million liability and physical damage protection
24/7 Roadside Assistance
24/7 Outdoorsy Helpline
✘
Cons
Fewer options for those who are in smaller towns
If there are any issues after the renter has taken possession of the RV, it is their responsibility to pay out of pocket for on-site repairs, including parts and labor costs.
Wait times to talk to customer service can be extensive.
Things to Consider when Renting an RV
Renting is an excellent way to take an RV adventure without having to make a buying commitment.
Regardless of if you're just testing the waters with the goal to own an RV or just want to rent an RV for the occasional road trip, RV rental will change the way you look at road trips.
Whether you choose to rent an RV from an individual or an RV rental company, there are a few things to take into consideration:
Budget (RV rental cost; additional fees for mileage; generator use; rental amenities; plus campgrounds, gas, and food)
Type of RV – Pull behind, 5th Wheel, Class A, B, or C motorhome, or Popup
Length of RV
Your comfort with maneuvering a large vehicle or towing a camper
Vacation plans – Most motorhome style RVs are not easy to drive in congested areas such as cities, plus parking isn't always the easiest find even outside of the town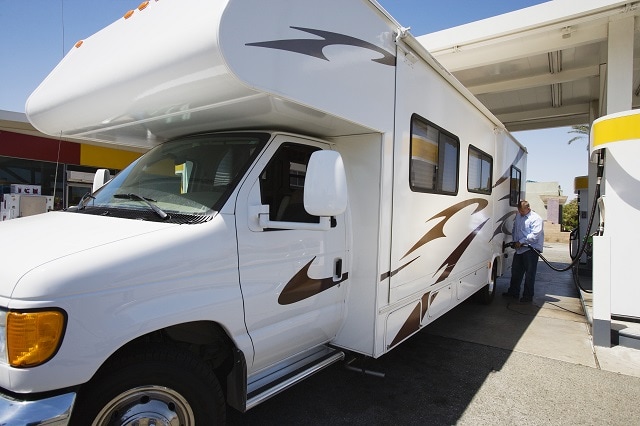 Features/Benefits
Outdoorsy helps RV owners make money while their RV sits idle.
Plus, Outdoorsy makes renting out your RV a safe and secure process.
They offer 24/7 roadside assistance and insurance, so both owners and renters have peace of mind that their investments are covered[2].
Also, for owners, there are other benefits too:
3rd party rental system
Free listings
Renter Verification
Greater exposure to more renters
The benefits for renters include:
Outdoorsy connects you with RV owners in your area
You can filter RV search, so you only have to sort through the ones that match your criteria
Some of the filters you can apply are:
Number of guests
Price
Vehicle type
Delivery – Dropoff and pickup service
Instabook
Kitchen amenities
General amenities like generator, TV, backup camera, bike rack and more
Rules like pet-friendly, tailgate-friendly, festival-friendly, and smoking
Minimum customer rating
Plus, one of the many benefits of renting from an RV owner is that many rentals include basic amenities such as dishes, kitchen tools, linens, and more.
But if you prefer a bare-bones RV, often you can save a little money by bringing your own stuff.
Outdoorsy offers a pickup, set up, and delivery option for those not comfortable driving an RV but want the RV camping experience.
For example, your flying in and want to camp at Yellowstone but wish to do so in luxury.
Outdoorsy will deliver and set up your RV at your campsite, so you're all set to go, and at the end of your trip, they will come and get it for a completely hassle-free experience.
What Others are Saying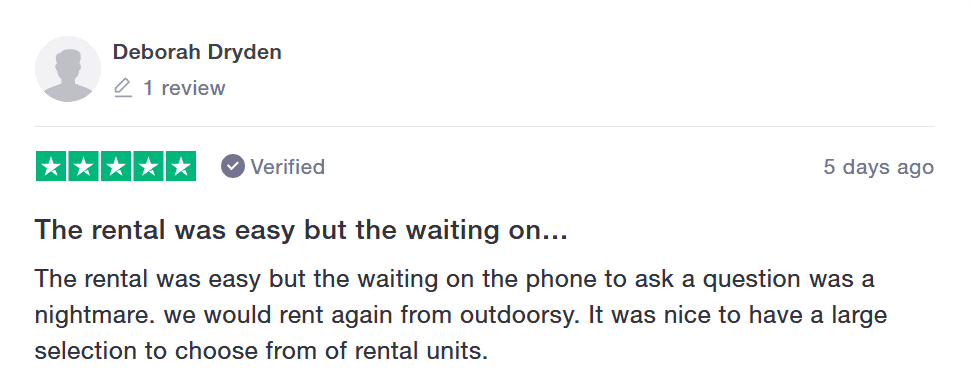 One of the best things about the internet is it is easy to find out what people think of a business and the service they received, before making a purchase.
Though no company is perfect, I often look to see the negative reviews to see if there's a pattern and also to see if and how the company responded.
When I looked into Outdoorsy, I checked out the Better Business Bureau first, and I was amazed at what I found. Outdoorsy scored an A+, which is excellent, but the score is not based on customer reviews.
What made me really smile was that they had an almost 5-star rating based on over 700 customer reviews[3].
I have looked at numerous BBB ratings, and I have never seen a company so well-liked based on customer reviews.
And the fact that it was made up of 669 reviews and not just a few is nothing short of astounding.

The biggest complaint I've seen is communication.
Customers mentioned it was difficult to get responses as well as experiencing challenges getting through to customer service.
Alternatives
RVShare is similar to Outdoorsy (see our comparison of these two RV rental websites) as they are a peer-to-peer marketplace, connecting RV owners with renters.
RVShare and Outdoorsy have many things in common, such as:
The convenience of a third party aiding in making reservations
Renter verification
Greater exposure to more customers
No monthly fee to list with them
Ability to find an RV to rent that is conveniently close to home
24/7 roadside assistance
Instant booking
The differences most people will notice between the two companies include:
The insurance coverage amount
Outdoorsy offers delivery, setup, and pick up service
Renters are required to undergo a comprehensive background and DMV check with Outdoorsy
Outdoorsy offers a GPS option that way RV owners can see the location of their RV
Cancellation policies
RVShare has a larger selection
Similar starting prices for renting, but the high range for RVShare is higher than Outdoorsy
BBB ratings – Outdoorsy's customer review score was higher than RVShare by one star, however, RVShare has made significant efforts in improving their customer experience.
Click here to see RVShare's wide selection of rentals!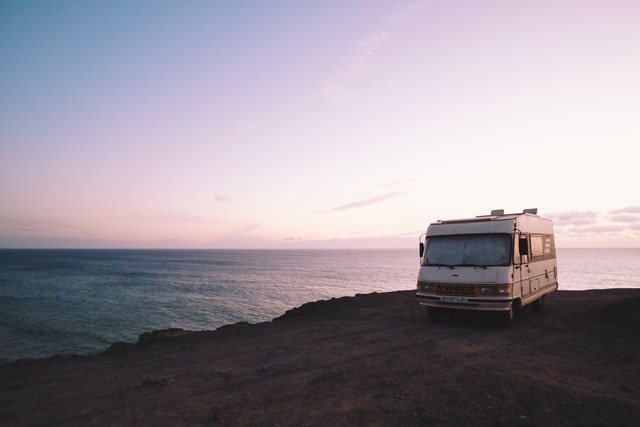 Camper Travel
Camper Travel is a travel agency specializing in RV travel.
They do not rent RVs directly but instead match RV renters to a rental service or group.
Camper Travel is essentially a database that connects you with loads of other RV rental companies all in one place, making it far easier to price compare and search for the RV that fits your travel needs.
Plus, Camper Travel works with RV rental groups not just in the US, but offers international services as well in Australia, New Zealand, Europe, Canada, and South Africa.
Unlike Outdoorsy, they do not work with private parties for peer to peer rental. And unfortunately, Camper Travel does not make arrangements for delivery, setup, or pick up services, so you must be comfortable driving the RV of your choice.
However, unlike many other RV rentals, you can choose a one-way service, so you can start and end your trip wherever you want.
Also, since Camper Travel deals strictly with RV rental companies, you will need to either rent or provide your own basic amenities such as dishes, linens, and convenience kits.
Camper Travel requires you to purchase their Mandatory Starter Kit which includes:
Full tank of propane, which is needed for the water heater, stove & oven, space heater, and the LPG setting on the refrigerator & freezer.
Prepared tank – toilet chemicals (1 pack) and tissue (1 roll), electrical power cord, A/C adapter, dumping and filling hoses, and leveling blocks
Camper Travel also offers four different insurance packages for an additional cost.
Before picking up, Camper Travel Partners performs:
Fills propane tank
Refills toilet chemicals and one roll of TP
Pre-cleaning
Mechanical servicing
If you want to learn more about Camper Travel then click here!
Conclusion
If you are considering renting an RV, it is always best to shop around; however, I think you will agree that Outdoorsy offers an excellent and convenient RV rental marketplace for peer to peer rentals.
Plus, they have a wide range of choices and all at a fair price.
Outdoorsy excels in what they do, which is what makes them a leader in their industry.
So, head over to Outdoorsy.com to rent your RV and get Rolling Down the Highway on your next outdoor travel adventure!
Resources